Standard White Crown Porcelain Sign: Original Vintage Petroliana – VS6287
At Mancave.ArtFactory.com We Specialize In The Rarest And Most Collector Coveted Authentic Petroliana Signs
This Is A Genuine, 1950's Era Porcelain Gas Sign With A White Background, And Red, White, And Blue Standard Oil Torch Logo


Description
Standard White Crown Porcelain Sign: Original Vintage Petroliana
This original vintage Standard White Crown porcelain sign is from the 1950's. It is a rectangular porcelain sign, and measures 15" x 12". This genuine single sided gas sign has a white background, and a red, white, and blue Standard Oil torch logo. The wording "Standard White Crown" is in red with a blue outline. The "SO" circle logo in navy blue with white lettering for Standard Oil are located in the bottom right and bottom left corners. "A Standard Oil Company Product" wording in blue is written between those two logos. The bottom corners read "AD3-504" and "I.R.-6-51" meaning that is was manufactured in June of 1951 by Ingram-Richardson. It is just one of hundreds of investment quality, collectible signs currently for sale at ArtFactory.com.
Standard White Crown Porcelain Sign Specifications
Type: Porcelain Enamel
Sides: Single Sided
Company: Standard Oil
Product: White Crown Gasoline
Date Of Manufacture: June 1951
Country Of Manufacture: U.S.A.
Color: White/Red/Blue
Dimensions: 15" Tall x 12" Wide
Condition: Original, as-is, see photos for details
THIS ITEM IS SOLD!
Note: Due to our earned reputation, we have the good fortune to be in high demand by collectors. We always have a waiting list for most items. We suggest if you are looking for a specific collectable, restored to this level, please ask to be placed on our first come, first served list. (Refundable deposit required.) Call 1-800-292-0008
We Specialize In Investment Quality Collectible Petroliana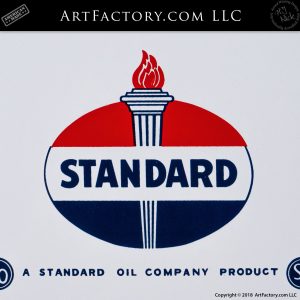 Like all of our vintage collectible petroliana, this vintage Standard White Crown porcelain sign featuring the popular torch logo is original, investment quality memorabilia. This authentic vintage porcelain sign for Standard Oil has not been restored. It is sold in original, as-is condition as pictured. It is our belief that these vintage signs should be kept in tact with any original dings, dents, bullet holes, etc. as the preserves the original history of the sign. This sign certainly shows its wear and age, but is in excellent condition over all for a sign that is now, nearly 70-years-old. It is a single-sided, rectangular sign with four original hanging holes. This iconic sign from the "Golden Age" of the American open road is perfect for display in any man cave, game room, or automotive business.
In addition to signs, we also have a large selections of museum quality vintage visible gas pumps, restored vending machines, and more. We can also restore your existing petroliana, or vintage vending machine. All restorations are done to working condition. This means completely restored to original manufacture specifications. We are a one stop shop when it comes to outfitting your man cave or game room. We even make custom doors and furniture for in any theme for your man cave. Contact us at 1-800-292-0008 for pricing on the vintage Standard White Crown porcelain sign, or any of our other investment quality, collectible petroliana.
Standard Oil Company History
Standard Oil Co. Inc. was an American oil producing, transporting, refining, and marketing company. Established in 1870 as a corporation in Ohio, it was the largest oil refiner in the world. Its controversial history as one of the world's first and largest multinational corporations ended in 1911, when the United States Supreme Court ruled that Standard was an illegal monopoly. John D. Rockefeller was a founder, chairman and major shareholder. With the dissolution of the Standard Oil trust into 33 smaller companies, Rockefeller became the richest man in the world.
Standard Oil (Indiana) was formed in 1889 by John D. Rockefeller as part of the Standard Oil trust. In 1910, with the rise in popularity of the automobile, Indiana Standard decided to specialize in providing gasoline to consumers. In 1911, the year it became independent from the Standard Oil trust, the company sold 88% of the gasoline and kerosene sold in the Midwest. In 1912 it opened its first gas service station in Minneapolis, Minnesota.
Read More At: Standard Oil on Wikipedia
Standard White Crown Porcelain Sign Info
When we use the terms "Museum Quality" and "Historically Correct," we are indicating our world-class process. We absolutely preserve all original signs, badges, glass with anomalies, natural aged patinas, and everything that makes a vintage item collectible. Maintaining non-structural damage, all age, wear, and tear is proudly displayed to showcase each item's unique charm.
Due to our earned reputation, we have the good fortune to be in high demand by collectors. Because most of our items have a waiting list, if you're looking for a specific collectible, please ask to be put on our first come, first served list (refundable deposit required).
We are the oldest and largest seller of fine art, historically correct, museum quality antiques and genuine, investment quality classic Americana.
World Class Collector Investments
Historically Correct
Genuine From Top To Bottom
Our Latest Investment Quality Authentic Vintage Porcelain Signs