Contact Us: Investment Quality Mancave Collectibles From ArtFactory.com
Thank You for Your Interest in Our Products
Contact us at 1-800-292-0008 and ask for the Mancave
Got a product question? We're happy to help!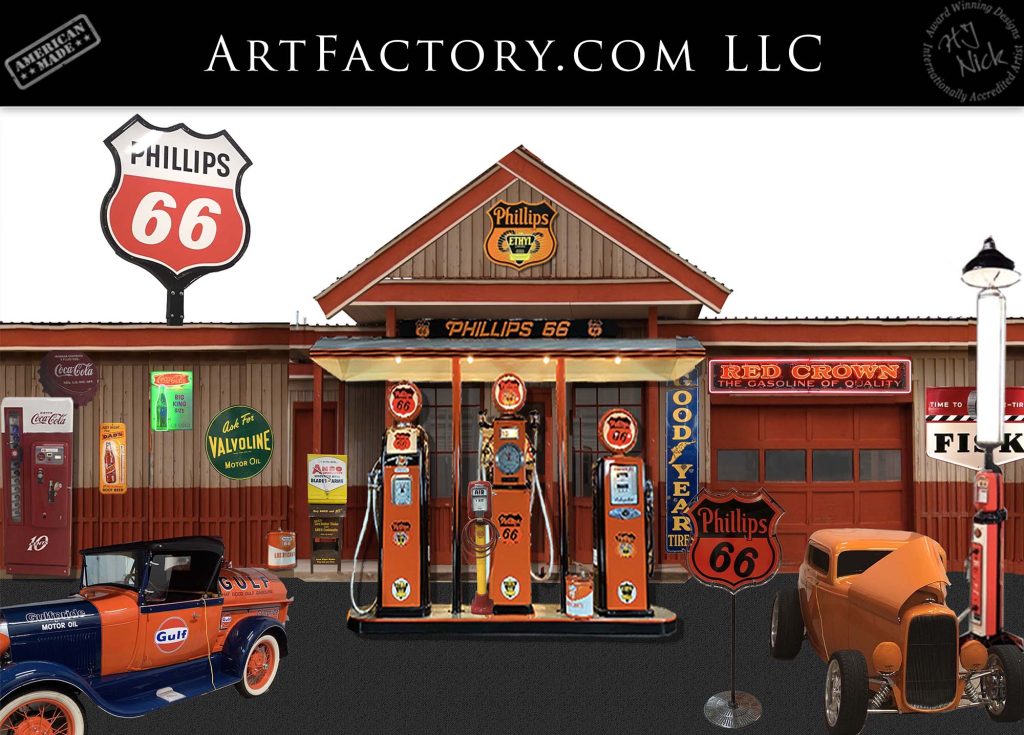 ---
We Have One Of The Largest Selections Of
Fully Restored  Museum Quality Vintage Visible Gas Pumps
Authentic Vintage Americana, Automobilia, And Petroliana Signs
Authentic Vintage Restored Vending Machines
Authentic Vintage Soda Collectibles
For Sale Anywhere
Original Vintage Collectible Signs And Memorabilia
At ArtFactory.com we offer one of the largest selections of vintage advertising signs found anywhere. We specialize in antique petroliana and gas station signs, but also offer vintage soft drink, candy, tobacco adversing and more. Additionally, our inventory includes a wide selection of antique street and railroad signage.
We guarantee these vintage porcelain signs to be correct as described. We do not restore, or remanufacture classic or antique artifacts. All of the antique signs, cans, logo art, and more are in as found condition. We are the foremost authority on vintage porcelain signs, and have set the standard for collectors world wide. We certify correctness and grade. Backed by over a century of expertise.
Facts You Should Be Aware Of Before You Invest In Collector Signs
About Man Cave Collectibles Restorations
While we are known for our furniture, we are also one of the leading authorities on restored collectible Americana. At ArtFactory.com, we have some of the finest examples of working, fully restored, vintage visible gas pumps in the world. We also do restorations on vending and soda machine, antique neon signs, slot machines, and collectible antique toys just to name a few. Bringing back memories of your life experience by fine art restorations of your vintage artifacts is our privilege. We always guarantee our work to your satisfaction or your money back, backed by over a century of experience.
Tour Our ArtFactory.com Showroom Man Cave