Reproduction Pam Clock: Hand On Cup "Refresh Yourself, Have A Coke" – VC6555
A Perfect Item For The Beginning Coca-Cola Collector Or If An Original Is Just A Bit Our Of Your Budget
This A High Quality Reproduction Of An Iconic Art Deco Coke Clock That Was Originally Manufactured By The Pam Company

Description
Reproduction Pam Clock: Hand On Cup "Refresh Yourself, Have A Coke"
At Artfactory.com, we specialize in rare, original collectible advertising. However, we occasionally come across a very high quality reproduction piece that we think would appeal to the beginning collector, or if an original is just a bit out of your budget. This reproduction Pam Clock, featuring a graphic of a hand on a cup of Coca-Cola, with the phrase "Refresh Yourself, Have A Coke" is just such an item. From the 1940's through the 1970's, The Pam Clock Company of New Rochelle, New York was famous for its advertising clocks and thermometers. They produced advertisements for many major soft drink, beer, oil companies, and more during this time period. This diamond shaped clock is a reproduction of one of their most iconic clocks. It measures 21 1/2 inches by 21 1/2 inches, and is in working condition, including the lighting.
Reproduction Pam Clock Specifications
REPRODUCTION (NOT AN ORIGINAL PAM CLOCK)
Type: Art Deco Advertising Clock
Sides: Single Sided
Shape: Diamond
Company: Coca-Cola
Product: Coke Soft Drink
Era Of Original: 1940's-1970's
Original Manufacture: The Pam Clock Company
Color: Sea Foam Green/Chrome/White/Red/Black
Dimensions: 21 1/2 Inches By 21 1/2 Inches
Condition: As-is, see photos for details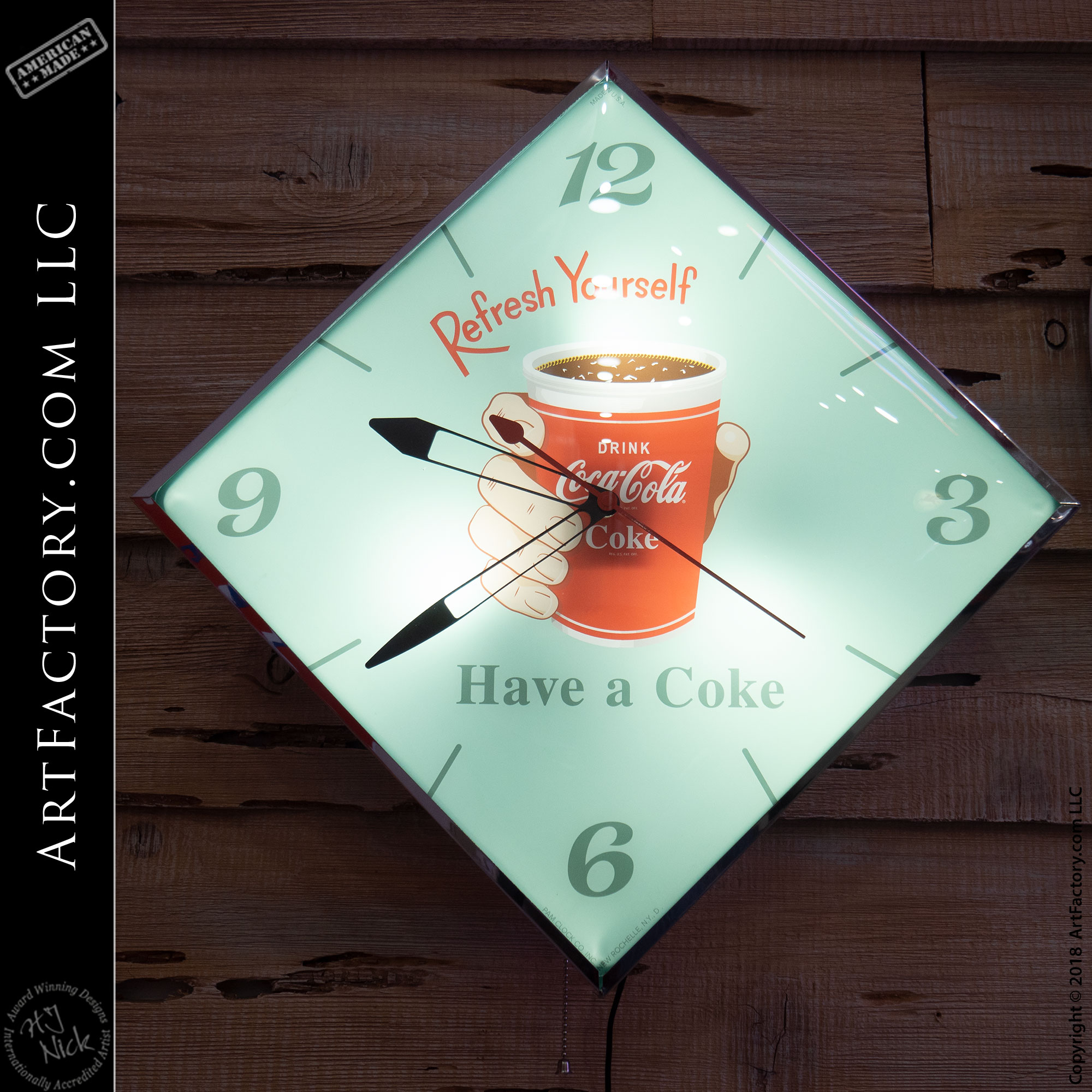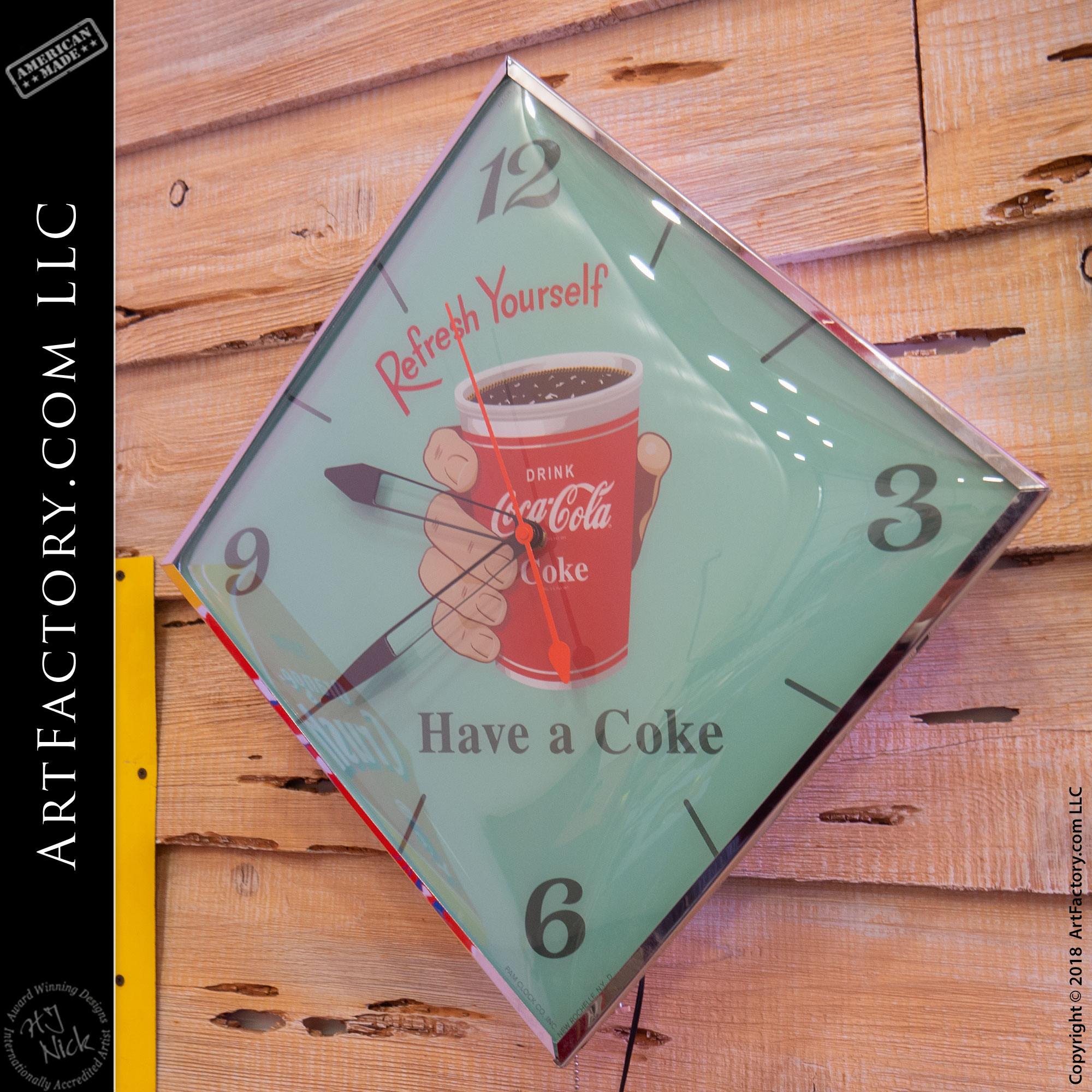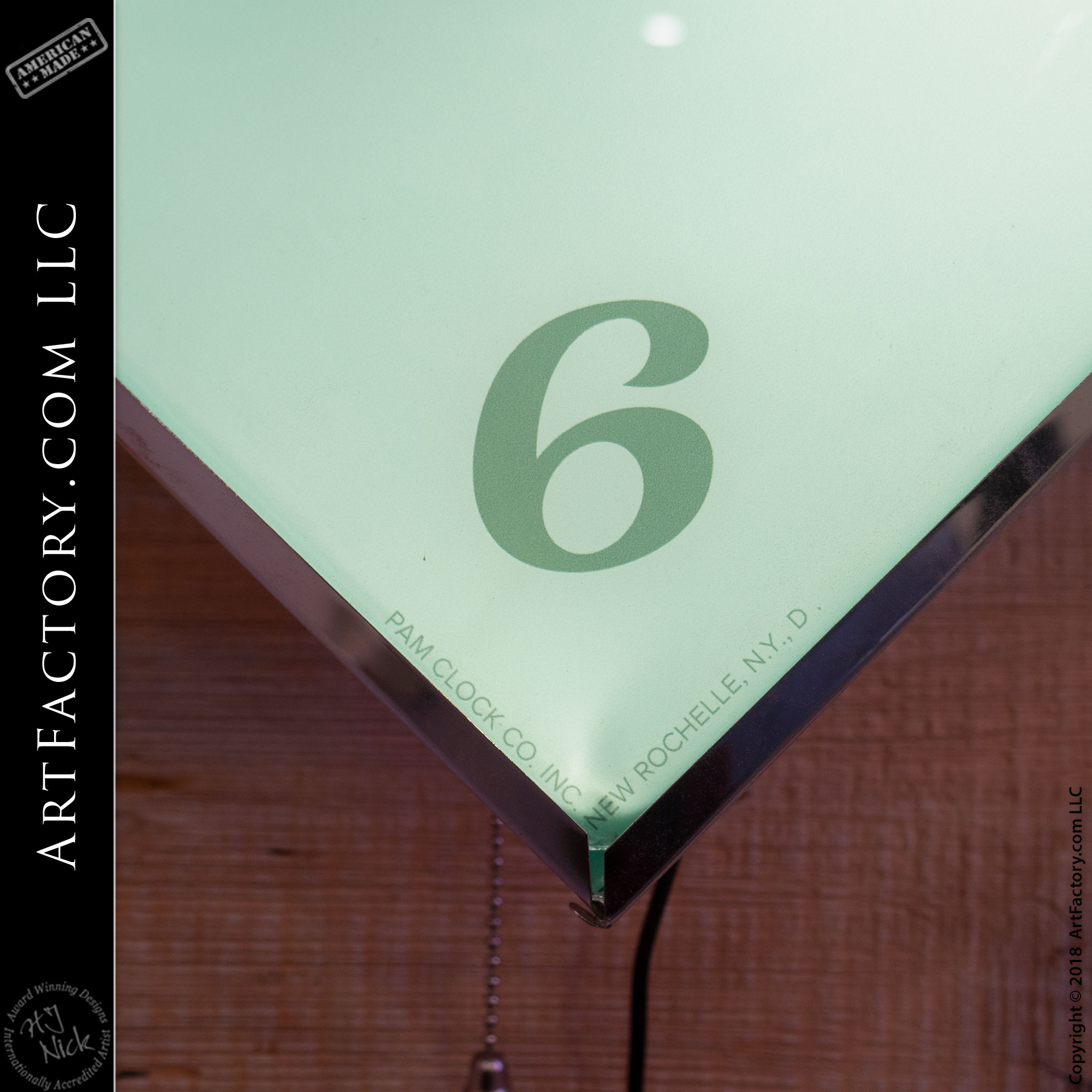 Reproduction Pam Clock Additional Details
This reproduction Pam Clock is sold in unrestored condition, as pictured. This item is perfect for your man cave or game room, and is a great starter item if an original vintage advertising clock is outside of your budget. However, if you are looking for a work of genuine fine art, we also offer fully working, museum quality restored neon signs, and vintage visible gas pumps that can be viewed by clicking this link. To inquire about purchasing this reproduction Pam Clock call us at 1-800-292-0008.
About The Mancave.ArtFactory.com Collectibles Bone Yard
In our Bone Yard, you will fine original unrestored vintage gas pumps, vending machines, modern retro items, and anything else that doesn't meet our regular world class investment quality standards. We generally don't deal in parts, but on the occasion that we have them for sale you will find those in the Bone Yard as well. We often buy entire collections, and sometimes in these collections are items that have collectible value, but don't quite merit a museum quality restoration. For example, items that are post 1970 will often be found in the Bone Yard. If you are looking for hard to find parts, or a fully restored pump is not quite in your budget, then have a look in our vintage Americana and petroliana bone yard.
Tour Our Showroom Man Cave
Our Latest Products In The Man Cave Bone Yard