Sinclair Dinosaur Neon Sign: Vintage Pennsylvania Motor Oil Advertising – NS6150
This Original, Genuine Vintage Porcelain Enamel Sign From The 1930's For Sinclair Pennsylvania Motor Oil Features The Iconic Dinosaur Logo, And Has Fully Rebuilt Neon And ALL SOLID STATE TRANSFORMERS
Don't Settle For Reproductions, Own The Real McCoy, We Have One Of The Largest Selections Of Petroliana For Sale Anywhere

Description
Sinclair Dinosaur Neon Sign: Vintage Pennsylvania Motor Oil Advertising
This original vintage Sinclair Dinosaur neon sign is just one of hundreds of collectible automobilia and petroliana collectibles currently for sale from ArtFactory.com. This single sided, porcelain enamel sign measures 22 inches tall by 16 inches wide, and is on a 5 1/2 inch deep metal can. The rectangular shaped sign features the Sinclair logo that was used in the 1930's. This is a 3 color sign that features a red and white background, with black lettering for the word "SINCLAIR" and white lettering for the words "Pennsylvania Motor Oil". The bottom of the sign features a black dinosaur logo. The word "SINCLAIR" lights up in red neon, and "Pennsylvania Motor Oil" lights up green, with white neon around the border of the dinosaur area. It is an authentic advertisement that was originally displayed at service stations in the 1930's, and was made in the U.S.A. Like all of our collectible signs, it is sold in original, unrestored condition as pictured. We do not believe in restoring old signs because it is our belief that every ding, dent, and blemish is part of the story and history of the item. However, all electrical elements and neon have been fully rebuilt by our experts with solid state transformers, and an on/off pull chord as pictured.
Sinclair Dinosaur Neon Sign Additional Details
This vintage Sinclair Dinosaur neon sign, and all of our signs are guaranteed to be authentic, backed by over a century of experience in the antiques and collectibles marketplace. This sign is original memorabilia from one of America's most iconic brands. We are a one stop shop when it comes to outfitting your man cave or game room. We can can outfit an entire gas station or automotive themed room for you, or help you find that one special item that has been missing from your collection. In addition to signs, we have vintage visible gas pumps, oil pumps, lubesters, and more, that we have fully restored to working, museum quality condition. Our petroliana restorations are the best in the business because nobody has been doing it longer, or pays as much attention to detail.
This rare vintage Sinclair Dinosaur neon sign is the perfect conversation piece that will wow your friends and clients alike. Like all of our vintage collectible signs, it is guaranteed authentic, investment quality memorabilia. We specialize in those hard to find signs that serious collectors are looking for. All antique collectables offered are genuine memorabilia and appreciable assets, not fake reproductions. All items are fine collectable art at the highest world class collector level. This is one of those centerpiece type items, that really have that "WOW Factor" to impress your friends and clients. Contact us today for pricing on this genuine porcelain enamel, vintage Sinclair Dinosaur neon sign or any of our collectible Americana, antique signs, old gas pumps, and classic collectibles at 1-800-292-0008.
Watch Neon Sign Restorations Video
Sinclair Dinosaur Neon Sign Specifications
Type: Lighted Vintage Genuine Porcelain Sign With Fully Rebuilt Neon And Wiring As Well As  Metal Housing Can
Sides: Single Sided
Shape: Rectangular
Company: Sinclair
Product: Pennsylvania Motor Oil
Era: 1930's
Country Of Manufacture: U.S.A.
Color: White/Black/Red
Neon Color: White (Border Around Dinosaur)/Red (SINCLAIR Lettering)/Green ( Pennsylvania Motor Oil Lettering)
Dimensions: 22 Inches Tall By 16 Inches Wide (5 1/2 Inches Deep Metal Can)
Condition: Original Porcelain Sign, Not Restored Or Doctored
As-Is, See Photos For Details
Neon Details: All neon and solid state transformers, wiring, mounts, switches, and wires have been replaced.
Comes with H.J. Nick exclusive "Fast Hanger Bar" Allowing a simple and easy way to hang straight and true every time.
Housing Can Rebuilt In Heavy Gage Steel And Finished For Indoor Or Outdoor Use
Neon has separate toggle pull chord as pictured so that the sign can easily be switched on and off with out unplugging. 
History Of The H-C Sinclair Sign And Sinclair Neon Signs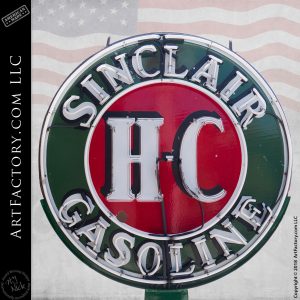 The H-C Sinclair gas sign is closely associated with Sinclair Oil Corporation, an American petroleum company founded by Harry F. Sinclair in 1916. The Sinclair Oil company is known for its distinctive green dinosaur mascot, as well as its use of neon signs to advertise its products. The company used various types of signage to promote its brand and attract customers. In the 1920's and 1930's, Sinclair employed a variety of designs for its gas station signs, including neon signs, porcelain signs, and illuminated signs.
The H-C Sinclair gas sign refers specifically to a type of sign that featured the initials "H.C." alongside the Sinclair logo. The H-C Sinclair Gasoline sign can be traced back to 1926, with the introduction of Sinclair's high octane gasoline. H-C, the industry's original high-octane premium gasoline for motorcars was a 72-octane auto fuel, developed at its Houston refinery, and was better than anything on the market in that era. For reference, the Lindbergh's flight to Paris in 1927 was on 73-octane gasoline. H-C stood for "Houston Concentrate, some advertisers referred to is as "High Compression." The design of the H-C Sinclair gas sign typically featured a rectangular or oval shape with the green Sinclair dinosaur logo in the center. These signs were often seen in the 1930's and 1940's and were used to promote Sinclair gas stations that sold the high octane fuel.
Sinclair's first neon sign was created in the 1920's, and it quickly became a popular way to advertise the company's gas stations and other products. The signs were made by hand, with glass tubes bent into specific shapes and filled with neon gas. (This same process is used by ArtFactory.com on not only Sinclair items, but every vintage neon sign that we restore features hand blown and bent glass tubes, filled with neon gas, using the same processes that were used in the early-Twentieth Century). By the 1950's, Sinclair had become one of the largest neon sign manufacturers in the world.
The company's signs were found at gas stations and other locations across the United States, and they became an iconic part of American culture. Sinclair's neon signs were designed to be eye-catching and memorable, with bold colors and distinctive shapes that made them stand out from other signs. The company's most famous sign was the "Sinclair Dino," which featured a green dinosaur standing on its hind legs and holding a gas pump. This sign was first introduced in 1930, and it quickly became a beloved symbol of the company.
Despite the rise of LED and digital signs in recent years, Sinclair continues to use neon signs as part of its advertising strategy. The company's neon signs are still made by hand, using the same techniques that were used in the early days of neon sign production. Today, Sinclair's neon signs are considered collectors' items, and they can be found in museums, and private collections around the world. The fact that these signs continue to be in made, more than a century after the first Sinclair neon sign was produced, is a testament to the company's long history and to the enduring appeal of neon signs as a form of advertising.
History Of The Sinclair Dino Logo
Sinclair Oil is an American petroleum company that was founded in 1916 in Wyoming. The Sinclair dinosaur logo is one of the most recognizable logos in American history. The logo was first introduced in the 1930's by the Sinclair Oil Corporation, a major oil company based in the United States. The Sinclair dinosaur logo has undergone several changes over the years, but it remains a beloved symbol of the company's history and legacy.
The story of the Sinclair dinosaur logo begins in 1916, when the Sinclair Oil Corporation was founded. At the time, the company did not have a logo or a recognizable brand identity. However, that all changed in the 1930's, when the company hired an artist named Dino De Laurentiis to create a new logo. De Laurentiis was an Italian artist who had recently immigrated to the United States. He was known for his ability to create memorable characters and logos, and he was the perfect person to design a new logo for Sinclair. De Laurentiis began working on the logo, and after several drafts, he came up with the now-famous image of a green Brontosaurus (later corrected as Apatosaurus) with the company name written in bold, red letters. The Sinclair dinosaur logo was an instant success. It was unlike anything else in the oil industry, and it quickly became synonymous with the Sinclair brand. The logo was used in all of the company's advertising, and it helped to establish Sinclair as one of the leading oil companies in the United States.
Over the years, the Sinclair dinosaur logo underwent several changes. In the 1950's, the company updated the logo to make it more modern and streamlined. The Brontosaurus was given a more realistic appearance, and the font used for the company name was updated as well. In the 1960's, the Sinclair dinosaur logo was updated again, this time to reflect the company's interest in space exploration. The Brontosaurus was given a rocket on its back, and the company name was updated with a more futuristic font.
Despite these changes, the Sinclair dinosaur logo remained a beloved symbol of the company's history and legacy. It continued to be used in the company's advertising and marketing campaigns, and it was even featured in movies and television shows. In the 1970s, however, the Sinclair dinosaur logo began to disappear from the company's advertising. The oil crisis of the 1970s had a major impact on the oil industry, and many companies, including Sinclair, were forced to cut back on their advertising budgets. As a result, the Sinclair dinosaur logo was no longer as visible as it had been in previous years. Despite this decline in visibility, the Sinclair dinosaur logo remained a beloved symbol of the company's history and legacy. It continued to be used on the company's products, and it was still recognized by people all over the world.
About The Black Dino Logo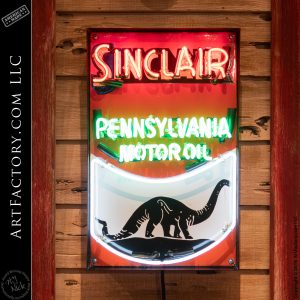 While the specific phrase "Black Dinosaur" may not have been officially coined by Sinclair Oil, it has become a popular term used to describe the distinctive dinosaur character associated with Sinclair's 100 million year advertising campaign. The concept of the "Black Dinosaur" for Sinclair's 100 million year advertising campaign was introduced in the mid-20th century and became an iconic symbol for Sinclair Oil Corporation. The campaign aimed to highlight the company's connection to the age of dinosaurs and promote the idea that Sinclair's oil products were derived from ancient fossil fuels.
The advertising campaign featured a stylized, cartoon-like depiction of a dinosaur, commonly referred to as the "Sinclair Dino" or the "Sinclair Dinosaur." The dinosaur was portrayed as a friendly and approachable character, often depicted in various activities and interacting with humans. It was predominantly black in color, which gave rise to the term "Black Dinosaur."
The use of the Black Dinosaur as a marketing tool was based on the scientific understanding that crude oil, the primary product of Sinclair Oil, is derived from the remains of ancient plants and animals that lived millions of years ago. By associating their brand with dinosaurs, Sinclair aimed to create a connection between the prehistoric era and their petroleum products.
Sinclair Dino Rooftop Statues History
The history of the fiberglass Sinclair Dino rooftop statue dates back to the mid-20th century when Sinclair Oil Corporation, an American petroleum company, utilized these statues as part of its marketing and branding efforts. The idea behind the fiberglass Sinclair Dino rooftop statues was to create eye-catching and distinctive displays that would attract attention and draw customers to Sinclair gas stations. These statues were typically placed on the rooftops of Sinclair gas stations, towering above the station buildings, and serving as recognizable landmarks.
The statues themselves were fiberglass replicas of the Sinclair Dinosaur character, which was part of Sinclair's 100 million year advertising campaign. The statues typically depicted a friendly and playful dinosaur, often standing upright and holding a Sinclair logo or a gas pump. They were typically painted in bright colors, with the most common color scheme being green for the dinosaur and red for the Sinclair logo. These rooftop statues quickly became iconic symbols of Sinclair gas stations and were installed at many locations across the United States. They not only served as advertising tools but also helped customers easily identify Sinclair gas stations from a distance.
Sinclair Dinosaur Neon Sign Info
When we use the terms "Museum Quality" and "Historically Correct," we are indicating our world-class process. We absolutely preserve all original signs, badges, glass with anomalies, natural aged patinas, and everything that makes a vintage item collectible. Maintaining non-structural damage, all age, wear, and tear is proudly displayed to showcase each item's unique charm.
Due to our earned reputation, we have the good fortune to be in high demand by collectors. Because most of our items have a waiting list, if you're looking for a specific collectible, please ask to be put on our first come, first served list (refundable deposit required).
We are the oldest and largest seller of fine art, historically correct, museum quality antiques and genuine, investment quality classic Americana.
World Class Collector Investments
Historically Correct
Genuine From Top To Bottom
Our Latest Investment Quality Authentic Vintage Neon Signs