Vintage OK Neon Porcelain Sign: 1950's Chevy Dealership Logo – VS228
At ArtFactory.com We Specialize In The Rarest And Most Collector Coveted Authentic Automobile And Petroliana Signs
Don't Settle For Low Quality Reproductions When You Can Own The Genuine Article

Description
Vintage OK Neon Porcelain Sign: 1950's Chevy Dealership Logo
This vintage OK neon porcelain sign is an original from the 1950s. It is a single sided, lollipop style, working neon sign with a porcelain sign face, and is in remarkable condition for a sign of its age. These signs were used by Chevy dealerships on their used car lots, and are an example of iconic automobile signage from "The Golden Age" of American open road driving. During the second half of the 20th century, these signs could be seen at used car dealerships nationwide.
It works very well with no buzzing as is common with many of these signs. It is a large, neon sign with the round, sign face measuring 2 feet in diameter. This lollipop style sign includes the original stand, and is over 6 feet tall from the base of the stand to the top of the sign. It is perfect for display in any man cave, game room, or automotive business.
Vintage OK Neon Porcelain Sign Specifications
Type : Single Sided Porcelain Enamel with Neon
Stand:  lollipop style sign with original stand
Neon: working with fully rebuilt electrical
Company: Chevrolet Dealerships
Product: Chevrolet OK Used Cars
Era: 1950's
Country Of Manufacture: USA
Color: Red/White/Blue
Dimensions/Size: 2 foot diameter by 11 inches deep (6 1/2 feet tall with stand)
Condition: Original, as-is, see photos for details – not restored, and not a reproduction
THIS ITEM IS SOLD!
Note: Due to our earned reputation, we have the good fortune to be in high demand by collectors. We always have a waiting list for most items. We suggest if you are looking for a specific collectable, restored to this level, please ask to be placed on our first come, first served list. (Refundable deposit required.) Call 1-800-292-0008
Additional Vintage OK Neon Porcelain Sign Details
This vintage OK neon porcelain sign is a must have for any serious automobilia collector. At ArtFactory.com we specialize in the rarest, most unique, and most highly collector coveted vintage automobilia and petroliana items. We have one of the largest selections available anywhere, and all of our vintage products are guaranteed to be authentic. That guarantee is back by over a century of experience in the vintage collectibles and antiques restoration marketplace. Don't get duped by fakes, or settle for low quality reproductions that will never have any long term appreciable value. Own the genuine article. Call us today at 1-800-292-0008 for pricing on the vintage OK neon porcelain sign, or any of our other museum quality vintage neon signs.
More Information About Porcelain Condition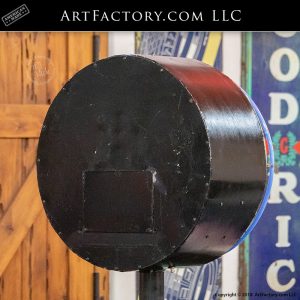 All advance collectors understand the value of keeping these American icons as natural and as close as to as found is paramount. Most of these signs have chips in the porcelain and there is no correct way to add new porcelain in a manor that would be consistent with a full museum quality restoration. Also, in the investor collector world there are two schools of thought. One is consistent with ours that it is best and correct to display the wounds, bullet holes etc and age marks, chips etc. on porcelain signs. In other words, these type of signs were originally designed to display at the roadside, and it is our belief that they should be kept to maintain this history.
We feel the porcelain sign has much more value in its true condition than it does doctored. Doctored porcelain signs also have a much smaller resale market. Much like cleaning the natural patina off of an antique gun, you are much more likely to damage the item in the eyes of collectors. However, if you are from the school of thought that your sign should be in pristine condition we offer to do this process at your request.
Vintage OK Neon Porcelain Sign Info
When we use the terms "Museum Quality" and "Historically Correct," we are indicating our world-class process. We absolutely preserve all original signs, badges, glass with anomalies, natural aged patinas, and everything that makes a vintage item collectible. Maintaining non-structural damage, all age, wear, and tear is proudly displayed to showcase each item's unique charm.
Due to our earned reputation, we have the good fortune to be in high demand by collectors. Because most of our items have a waiting list, if you're looking for a specific collectible, please ask to be put on our first come, first served list (refundable deposit required).
We are the oldest and largest seller of fine art, historically correct, museum quality antiques and genuine, investment quality classic Americana.
World Class Collector Investments
Historically Correct
Genuine From Top To Bottom
Our Latest Museum Quality Authentic Vintage Neon Signs