Standard Oil Products Vintage Neon Sign: Rare Original 1930's Petroliana – SOS5756
At ArtFactory.com We Specialize In The Rarest And Most Collector Coveted Authentic Petroliana Signs
This Sign Is Over 10 Feet Long And Is Perfect For Your Man Cave Or Auto Shop Wall


Description
Standard Oil Products Vintage Neon Sign: Rare Original 1930's Petroliana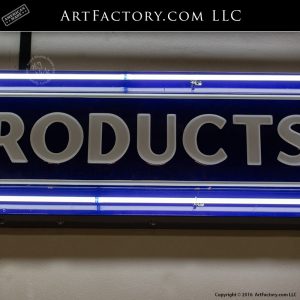 At ArtFactory.com we specialize in the rarest, and most highly collector sought after vintage petroliana. This Standard Oil Products vintage neon sign from the 1930's is not only extremely rare, but is in excellent condition with working neon. We have completely rebuilt the neon and the can that the sign sits on, and added a solid state transformer and on/off pull switch. The porcelain sign face is blue with "STANDARD OIL PRODUCTS" in white lettering with white neon surrounding the outer edges of the sign. The porcelain is in excellent condition and almost completely free of wear. Like all of our porcelain signs, this is in original unrestored condition as we believe all porcelain signage should be kept. This large sign is over 10 feet long, and is the perfect display piece for your man cave, or any type of commercial automotive service business.
Never settle for low quality reproductions when you can have the genuine article. Authentic, original vintage porcelain signs and petroliana have investment value that reproductions never will. All of our collectible signs, restored vending machines, and museum quality vintage visible gas pumps are real, authentic Americana with future appreciable value. Furthermore, all of our museum quality restorations are certified to fine art quality by award winning artist H.J. Nick. Our restorations are the finest quality available anywhere because nobody has been doing it longer, or takes the attention to detail that we do at ArtFactory.com. We have one of the largest selections of collectible vintage petroliana available anywhere, and over a century of experience in the antiques restoration business. Call us today at 1-800-292-0008 fo pricing on this Standard Oil Products vintage neon sign, or any of our other museum quality collectible Americana.
Standard Oil Products Vintage Neon Sign Specifications
Condition - Excellent Unrestored (Old New Stock Condition)
Sign Face - Porcelain Enamel
Product Brand - Standard Oil
Paint - Original
Color - Blue With White Lettering
Size - 128 inches long x 21 inches tall x 11 inches deep
Era - 1930's
Neon - new solid state transformer with on/off pull switch
Neon Color - White
Made in the USA
Standard Oil Products Vintage Neon Sign Info
When we use the terms "Museum Quality" and "Historically Correct," we are indicating our world-class process. We absolutely preserve all original signs, badges, glass with anomalies, natural aged patinas, and everything that makes a vintage item collectable. Maintaining non-structural damage, all age, wear, and tear is proudly displayed to showcase each item's unique charm.
Due to our earned reputation, we have the good fortune to be in high demand by collectors. Because most of our items have a waiting list, if you're looking for a specific collectible, please ask to be put on our first come, first served list (refundable deposit required).
We are the oldest and largest seller of fine art, historically correct, museum quality antiques and genuine, investment quality classic Americana.
World Class Collector Investments
Historically Correct
Genuine From Top To Bottom
Our Latest Museum Quality Authentic Vintage Neon Signs