Coca-Cola Neon Sign: Double Sided Heavy Iron Round Coke Button – NS6201
This Is Extremely Rare, Early Head Quarters 50 Inch Diameter, Vintage 1930's Advertisement For Coca-Cola
Original Advertising Sign With Extremely Heavy Iron Frame And Continuous Hooks With Coke Buttons That Are Removable On Each Side

Description
Coca-Cola Neon Sign: Double Sided Heavy Iron Round Coke Button
This extremely rare vintage Coca-Cola neon sign from the 1930's is a true relic from America's soda shop glory days. This extra large, heavy iron sign measures 50 inches wide in diameter, and is 8 inches thick. It is a double sided sign with a red background, and has the words "Coca-Cola" in white cursive writing, with a green glass Coke bottle in the background. The words "Coca-Cola" light up in white neon. Like all of our collectible signs, it is sold in original, unrestored condition as pictured, polished and cleaned only. We do not believe in restoring old signs because it is our belief that every ding, dent, and blemish is part of the story and history of the item. However, this is a 101 point neon and electrical restoration sign by award winning artist H.J. Nick, all electrical was replaced and new neon was blown in the same hand and materials as the original in the same era by one of our master glass blowers. SOLID STATE TRANSFORMERS, wiring, mounts, and electrical parts have been fully rebuilt or replaced by our experts. The neon features a separate on/off toggle pull cord as pictured.
Coca-Cola Neon Sign Additional Details
This vintage Coca-Cola neon sign is original memorabilia from one of America's most iconic brands. It is sold in original unrestored condition because our belief is that signs should not be restored because every ding, dent, and blemish is part of the history and story of the item. We are a one stop shop when it comes to outfitting your man cave or game room. We can can outfit an entire vintage soda shop themed room for you, or help you find that one special item that has been missing from your collection. In addition to signs, we have vintage restored vending machines, and more, that we have fully restored to working, museum quality condition. Our vintage vendor restorations are the best in the business because nobody has been doing it longer, or pays as much attention to detail.
This rare vintage Coca-Cola neon sign is the perfect conversation piece that will wow your friends and clients alike. Like all of our vintage collectible signs, it is guaranteed authentic, investment quality memorabilia. We specialize in those hard to find signs that serious collectors are looking for. All antique collectables offered are genuine memorabilia and appreciable assets, not fake reproductions. All items are fine collectable art at the highest world class collector level. Contact us today for pricing on this collectible vintage Coca-Cola neon sign or any of our collectible Americana, antique signs, old gas pumps, and classic collectibles at 1-800-292-0008.
Watch Neon Sign Restorations Video
Vintage Coca-Cola Neon Sign Specifications
Type: 

Lighted Heavy Iron Original Sign With New Neon, Transformers And Wiring

Sides: Double Sided

Shape: Round Button Heavy Iron Sign

Company: Coca-Cola Head Quarters Sign

Product: Bottled Coca-Cola

Era: 1930's

Country Of Manufacture: U.S.A.

Color: Red/White

Neon Color: White

Dimensions: 50 Inch Diameter By 8 Inches Thick With Hand Forged Thick Iron Center Hanging Frame 

Condition: Original Heavy Iron Sign Not Restored Or Doctored (

As-Is, See Photos For Details)

Neon Details: All neon and solid state transformers, wiring, mounts, switches, and wires have been replaced.

Includes Signed And Certified By H.J. Nick As American Made

Original 

Neon has separate toggle pull chord as pictured so that the sign can easily be switched on and off with out unplugging. 
Coca-Cola Company History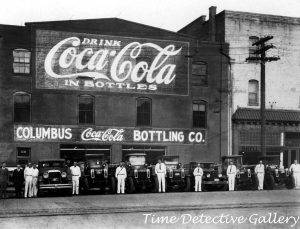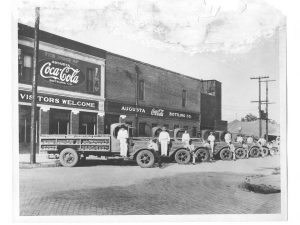 Coca-Cola, or Coke, is a carbonated soft drink manufactured by the Coca-Cola Company. Originally marketed as a temperance drink and intended as a patent medicine, it was invented in the late 19th century by John Stith Pemberton in Atlanta, Georgia. In 1888 Pemberton sold Coca-Cola's ownership rights to Asa Griggs Candler, a businessman, whose marketing tactics led Coca-Cola to its dominance of the global soft-drink market throughout the 20th and 21st century. The drink's name refers to two of its original ingredients: coca leaves, and kola nuts (a source of caffeine). The current formula of Coca-Cola remains a closely guarded trade secret; however, a variety of reported recipes and experimental recreations have been published. The secrecy around the formula has been used by Coca-Cola in its marketing as only a handful of anonymous employees know the formula. The drink has inspired imitators and created a whole classification of soft drink: colas.
Read More At: Coca-Cola On Wikipedia
When we use the terms "Museum Quality" and "Historically Correct," we are indicating our world-class process. We absolutely preserve all original signs, badges, glass with anomalies, natural aged patinas, and everything that makes a vintage item collectible. Maintaining non-structural damage, all age, wear, and tear is proudly displayed to showcase each item's unique charm.
Due to our earned reputation, we have the good fortune to be in high demand by collectors. Because most of our items have a waiting list, if you're looking for a specific collectible, please ask to be put on our first come, first served list (refundable deposit required).
We are the oldest and largest seller of fine art, historically correct, museum quality antiques and genuine, investment quality classic Americana.
World Class Collector Investments
Historically Correct
Genuine From Top To Bottom
Our Latest Investment Quality Authentic Vintage Porcelain Signs