Oldsmobile Rocket Service Sign: Rare Vintage Neon "Model 88" Ad – NS6498
This Unique, Original 1950's Era Die Cut Porcelain Oldsmobile Dealership Sign Is For Authorized Service Of The V8 "Rocket" Engine, And Popular Model 88 Vehicles That Were Produced By Oldsmobile Beginning In 1949, Is A Rare Piece Of American Automotive History
Features A 101 Point Neon Restoration With All New Electrical Components, Wiring And All Solid State Transformers, Neon Hand Blown By Our In House Master Glass Blowers And Has Received Award Wining Artist H.J. Nick's Brass Tag Signature Certification As A Piece Of World Class Museum And Investment Quality Fine Art Collectible Memorabilia

Description
Oldsmobile Rocket Service Sign: Rare Vintage Neon "Model 88" Ad
This original vintage neon Oldsmobile Rocket Service sign is just one of hundreds of collectible automobilia and petroliana collectibles currently for sale from ArtFactory.com. This double sided, die cut, rocket shaped porcelain enamel sign. This extra large vintage dealership service sign measures 55 inches at its tallest point by 10 inches at its widest point, and 24 inches at its deepest point (measured from the far point of the nose of the rocket to the back of the wall mount. The sign is primarily blue with white lettering. The sign has a wall mounted base that is in the shape of a rocket, with the die cut rocket pointing out from the wall mount at a diagonal angle as if it is taking off from a launch pad. The word "SERVICE" is in white lettering on both sides of the rocket. The sign has detailed neon that lights up up white around the letters of the word "SERVICE" on both sides of the sign, in white neon on the body of the rocket to form to the details of the fuselage, and red neon to represent the flames coming out of the rocket engine. There is a number "88" with a small rocket graphic on the front of the base of the sign that lights up in blue neon, and represents service on the Oldsmobile Model 88 vehicles that were a popular line that used the 455 engine. This vintage neon Oldsmobile Rocket Service sign is an authentic dealership advertisement from the 1950's.
Like all of our collectible signs, this rare neon Oldsmobile Rocket Service sign is sold in original, unrestored condition as pictured. We do not believe in restoring old signs because it is our belief that every ding, dent, and blemish is part of the story and history of the item. This item is in Mear Mint/Excellent (Mr-Mt/EXL) condition overall with an extremely clean sign face, and very little damage of any kind on the outer sides of the sign, with only 3 very small nicks on the far outer edge of the rocket being the only blemishes of note. Even the back side of this sign and electrical housing can are exceptionally clean. Overall this is as clean of an example of this sign as you will find, if you ever find another one at all. The only exception being the 101 point, museum quality neon restoration, which is done under the supervision of, certified, and signed by award winning artist H.J. Nick as meeting all world class fine are qualifications.
Oldsmobile Rocket Service Sign Specifications
Type: Heavy Porcelain Enamel Sign With Fully Restored Neon
Sides: Double Sided
Shape: Die Cut Rocket Shaped With With Rocket Shaped Wall Mounted Base
Company: Oldsmobile (General Motors)
Product: Oldsmobile Rocket V8 Engine And Model 88 Vehicle Service
Era: 1950's
Country Of Manufacture: U.S.A.
Color: Blue/White
Neon Color: White (Border Of Sign/Letting Of Word "SERVICE"/Details Of Fuselage On Rocket)/Red (Flames From Rocket Engine)/Blue ("88" And Small Rocket Graphic On Front Of Sign Base)
Dimensions: 55 Inches At Tallest Point By 10 Inches At Widest Point  (24 Inches Deep Measured From Tip Of Rocket To Base Of Metal Housing Can)
Condition: Original Genuine Porcelain Sign Not Restored Or Doctored (As-Pictured, See Photos For Details)
Neon Details: All Neon And Solid State Transformers, Wiring, Mounts, Switches, And Wires Have Been Replaced.
Comes With H.J. Nick Exclusive "Fast Hanger Bar" Allowing A Simple And Easy Way To Hang Straight And True Every Time.
Neon Has Separate Toggle Pull Chord As Pictured So That The Sign Can Easily Be Switched On And Off Without Unplugging. 
Certification: Brass Tag Signed By Award Winning Artist H.J. Nick
This certification means each item bearing his signature is backed by over 100 years of manufacturing world class fine art handmade furnishings, and restoring America's finest collectibles to original, museum quality condition. Also, any electrical parts including wiring and solid state transformers have been replaced. The neon features a separate on/off toggle pull cord as pictured.
Watch Neon Sign Restorations Video
Watch Hanging Neon Signs Video
Oldsmobile Rocket Service Sign Additional Details
This vintage neon Oldsmobile rocket Service sign is original memorabilia from one of America's most iconic brands. We are a one stop shop when it comes to outfitting your man cave or game room. We can can outfit an entire gas station or automotive themed room for you, or help you find that one special item that has been missing from your collection. In addition to signs, we have vintage visible gas pumps, oil pumps, lubesters, and more that we have fully restored to working, museum quality condition. Our petroliana restorations are the best in the business because nobody has been doing it longer, or pays as much attention to detail.
This rare vintage neon Oldsmobile rocket Service sign is the perfect conversation piece that will wow your friends and clients alike. Like all of our vintage collectible signs, it is guaranteed authentic, investment quality memorabilia. We specialize in those hard to find signs that serious collectors are looking for. All antique collectables offered are genuine memorabilia and appreciable assets, not fake reproductions. All items are fine collectable art at the highest world class collector level. Contact us today for pricing on this collectible vintage neon Oldsmobile rocket Service sign or any of our collectible Americana, antique signs, old gas pumps, and classic collectibles at 1-800-292-0008.
ArtFactory.com & Award Winning Artist H.J. Nick Brass Tag Certification Details
The H.J. Nick Brass Tag Certification ensures each piece to be the genuine article. Backed by our over a century of experience, with our word is our bond reputation and guaranteeing or your money back "forever". The H.J. Nick Brass Tag Certification makes this item one of the highest appreciating, collectible investments that you can make. These items can be insured at stated value, usually on your home owners policy, for little added premium. Thus, making this a safer investment than even those insured by the FDIC, is much more fun to own, and puts you in control instead of the bank.
Oldsmobile (Rocket) V8 Engine History
The Oldsmobile V8, also referred to as the Rocket, is series of engines that was produced by Oldsmobile from 1949 until 1990. The Rocket, along with the 1949 Cadillac V8, were the first post-war OHV crossflow cylinder head V8 engines produced by General Motors. Like all other GM divisions, Olds continued building its own V8 engine family for decades, adopting the corporate Chevrolet 350 small-block and Cadillac Northstar engine only in the 1990s. All Oldsmobile V8s were manufactured at plants in Lansing, Michigan while the engine block and cylinder heads were cast at Saginaw Metal Casting Operations.
All Oldsmobile V8s use a 90° bank angle, and most share a common stroke dimension: 3.4375 in (87.31 mm) for early Rockets, 3.6875 in (93.66 mm) for later Generation 1 engines, and 3.385 in (86.0 mm) for Generation 2 starting in 1964. The 260 cu in (4.3 L), 307 cu in (5.0 L), 330 cu in (5.4 L), 350 cu in (5.7 L) and 403 cu in (6.6 L) engines are commonly called small-blocks. 400 cu in (6.6 L), 425 cu in (7.0 L), and 455 cu in (7.5 L) V8s have a higher deck height (10.625 in (27.0 cm) versus 9.33 in (23.7 cm)) to accommodate a 4.25 in (108 mm) stroke crank to increase displacement. These taller-deck models are commonly called "big-blocks", and are 1 in (2.5 cm) taller and 1.5 in (3.8 cm) wider than their "small-block" counterparts. The Rocket V8 was the subject of many first and lasts in the automotive industry. It was the first mass-produced OHV V8, in 1949.
About Oldsmobile Model 88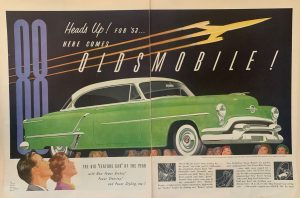 The Model 88 was produced by Oldsmobile from 1949 until 1999. From 1950 until 1974, the 88 was the division's most profitable line, particularly the entry level models such as the 88 and Dynamic 88. With the large, high performance V8, the Oldsmobile 88 is considered by some to be the first muscle car, although this title is disputed.
Naming conventions used by GM since the 1910s for all divisions used alphanumeric designations that changed every year. Oldsmobile starting after the war changed their designations and standardized them so that the first number signified the chassis platform, while the second number signified how many cylinders. A large number of variations in nomenclature were seen over this long model run — Super, Golden Rocket, Dynamic, Jetstar, Delta, Delmont, Starfire, Holiday, LS, LSS, Celebrity, and Royale were used at various times with the 88 badge, and Fiesta appeared on some station wagons in the 1950s and 1960s. The name was more commonly shown as numerals in the earlier years ("Delta 88", for example) and was changed to spell out "Eighty Eight" starting in 1989.
Read More At: Oldsmobile 88 On Wikipedia
More Vintage Collectible Neon Automobilia Signs For Sale From ArtFactory.com
Oldsmobile Rocket Service Sign
When we use the terms "Museum Quality" and "Historically Correct," we are indicating our world-class process. We absolutely preserve all original signs, badges, glass with anomalies, natural aged patinas, and everything that makes a vintage item collectible. Maintaining non-structural damage, all age, wear, and tear is proudly displayed to showcase each item's unique charm.
Due to our earned reputation, we have the good fortune to be in high demand by collectors. Because most of our items have a waiting list, if you're looking for a specific collectible, please ask to be put on our first come, first served list (refundable deposit required).
We are the oldest and largest seller of fine art, historically correct, museum quality antiques and genuine, investment quality classic Americana.
World Class Collector Investments
Historically Correct
Genuine From Top To Bottom
Our Latest Investment Quality Authentic Vintage Neon Signs