Quiky Soda Pop Vintage Tin Sign: Raised Embossed Litho Signage – VS180
At ArtFactory.com We Have One Of The Largest Selections Of Original Collectible Soda Fountain And Drugstore Advertising Available Anywhere
Don't Settle For Low Quality Reproductions When You Can Own The Genuine Article

Description
Quiky Soda Pop Vintage Tin Sign: Raised Embossed Litho Signage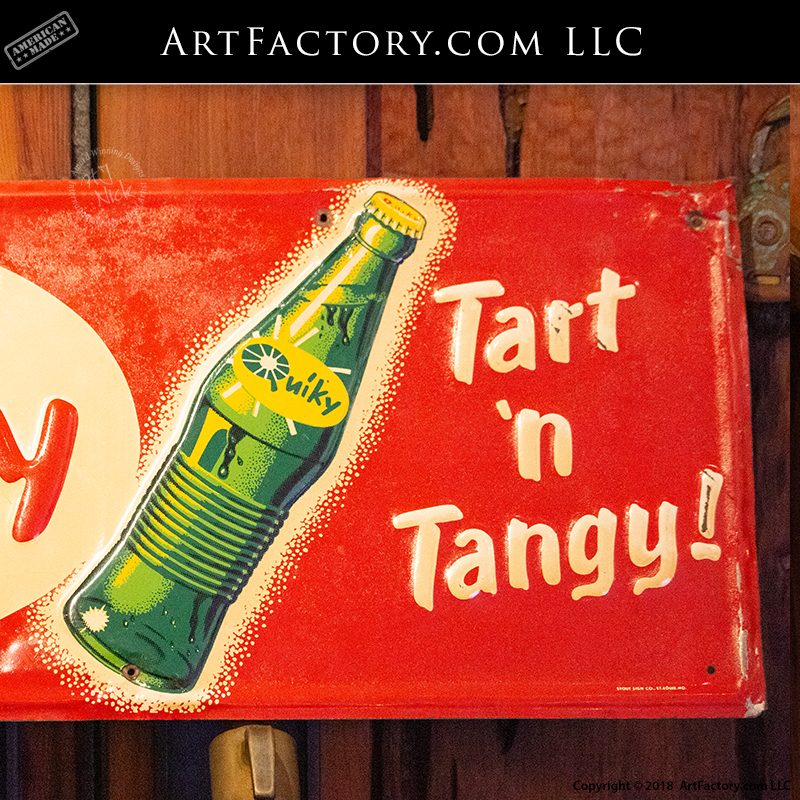 This is a rare original Quiky Soda Pop vintage tin sign from the 1950's. The raised letter, embossed tin litho sign features a red background with an oval shaped, white background logo that reads "QUIKY" in red lettering. There is a bottle of Quiky Soda Pop, angled to the right of the logo, and the words "TART 'N TANGY" to the right of the bottle in white lettering. Like all of our vintage signage, it is in original, unrestored condition.
At ArtFactory.com we have one of the largest selections of original collectible drug store and soda fountain signs available anywhere. All of our vintage signs are genuine authentic memorabilia in original condition, because it is our belief, and the prevailing belief of collectors that these signs should be kept as is. Never settle for low quality reproductions when you can own the genuine article. Modern reproductions will never have any kind of appreciable investment quality. Serious collectors only want the original items from history, and these will only go up in value as they become more and more rare over time. Call us today for pricing on this Quiky Soda Pop vintage tin sign, or any of our other, investment quality collectible signs at 1-800-292-0008.
Quiky Soda Pop Vintage Tin Sign Specifications
Type - Tin litho with raised embossed lettering
Product - Quiky
Era - 1950s
Color - Red, Yellow, White and Green
Dimensions - 28" Width x 9 1/2" Height
Condition - Original, as-is, see photos for details - not restored, and not a reproduction
Stout Sign Company Historical Information
Stout Sign Company LLC ™ was established in 1886 by the Stout family of St. Louis, Missouri. The Family was set on capitalizing on rise in automobile traffic on the Nation's Highway System. With this traffic, came an opportunity for roadside advertising. The Family was fixed on making their mark by using the highest quality processes and materials which resulted in some of the most durable signs ever made. This attention to quality and durability quickly caught the attention of brands like Burma Shave, Baby Ruth, Michelin Tire, Pepsi Cola and more.
During WW II the Stout Sign Company LLC ™, along with other manufacturers, gave its facilities over to the Federal Government in support of the war effort. The little that Stout was allowed to operate in the facility was put to use, in part, producing the widely recognized Uncle Sam Sign - "I Want You for the U.S. Army".
Read More At: https://stoutsign.com/about-stout-sign-company/
Quiky Soda Pop Vintage Tin Sign Info
When we use the terms "Museum Quality" and "Historically Correct," we are indicating our world-class process. We absolutely preserve all original signs, badges, glass with anomalies, natural aged patinas, and everything that makes a vintage item collectible. Maintaining non-structural damage, all age, wear, and tear is proudly displayed to showcase each item's unique charm.
Due to our earned reputation, we have the good fortune to be in high demand by collectors. Because most of our items have a waiting list, if you're looking for a specific collectible, please ask to be put on our first come, first served list (refundable deposit required).
We are the oldest and largest seller of fine art, historically correct, museum quality antiques and genuine, investment quality classic Americana.
World Class Collector Investments
Historically Correct
Genuine From Top To Bottom
Our Latest Investment Quality Authentic Vintage Porcelain Signs