International Harvester Neon Sign: Rare Original Vintage Porcelain – NS6499
A Genuine Piece Of Automotive And Agricultural History, Founded In 1902 The International Harvester Company's Tractors, Trucks, And Farming Equipment Were At The Forefront Of The Industrial Revolution, Despite Closing Business In 1985, The Brand Maintains A Cult Following Today's Due To Its Importance To Rural Communities Across America
This Is A Centerpiece Quality Item For Even The Most Serious Automobilia Collector, This Extra Large, Original Early Twentieth-Century Porcelain Enamel Sign Features A 101 Point Neon Restoration, With All New Electrical Components And Solid State Transformers, Neon Blown By Our In-House Master Glass Blowers, And Has Received Award Winning Artist H.J. Nick's Brass Tag Signature Certification As A World Class Fine Art, Museum And Investment Quality Piece Of Collectible Memorabilia

Description
International Harvester Neon Sign: Rare Original Vintage Porcelain
This original vintage International Harvester neon sign is just one of hundreds of collectible automobilia and petroliana collectibles currently for sale from ArtFactory.com. This single sided, vertically oriented rectangular sign with rounded corners, in a black heavy metal housing can. The genuine porcelain sign measures 56 inches tall, by 51 inches wide, and the heavy metal housing can is 6 inches deep. The sign has a primarily white background inside with the lip of the housing can creating a black border around the sign. The center of the sign features a large "IH Logo" with the "H" being navy blue and the "I" being red. The words "INTERNATIONAL HARVESTER" are below the logo in navy blue lettering. The sign lights up in light blue neon around the border of the sign, around the letter "H" border in the logo, and also the lettering for "INTERNATIONAL HARVESTER" lights up in light blue neon. The "I" in the logo lights up in red neon. It is an authentic advertisement that was originally displayed at authorized International Harvester dealerships, in the early 1900's.
This International Harvester Neon Sign Is A Historic Artifact From America's Industrial Agricultural Revolution And Is Iconic Memorabilia From The American Heartland
The Importance Of International Harvester Company, Case International, And John Deere Almost Cannot Be Overstated. Their Contributions To The American Farming Revolution And The Machinery They Created Was An Essential Component That Transformed The United States Into A World Leader In Industry And Agriculture. Hanging One Of These Iconic Signs Is Equivalent To Flying A U.S. Flag And Is Proud Symbol Of The History And Heritage Of Our Nation's Rural Communities.
International Harvester Sign Specifications
Type: Heavy Porcelain Enamel Sign With Fully Restored Neon
Sides: Single Sided
Shape: Horizontally Oriented Rectangular
Company: International Harvester Company
Product: Tractors And Trucks
Era: Early Twentieth Century
Country Of Manufacture: U.S.A.
Color: White/Red/Blue
Neon Color: Light Blue (Border Or Sign, Border Of Letter "H" In Logo, International Harvester Lettering)/Red (Border Of Letter "I" In Logo)
Dimensions: 56 Inches Tall By 51 Inches Wide  (6 Inch Deep Metal Can)
Condition: Original Genuine Porcelain Sign Not Restored Or Doctored (As-Pictured, See Photos For Details)
Neon Details: All Neon And Solid State Transformers, Wiring, Mounts, Switches, And Wires Have Been Replaced.
Comes With H.J. Nick Exclusive "Fast Hanger Bar" Allowing A Simple And Easy Way To Hang Straight And True Every Time.
Neon Has Separate Toggle Pull Chord As Pictured So That The Sign Can Easily Be Switched On And Off Without Unplugging. 
Certification: Brass Tag Signed By Award Winning Artist H.J. Nick
International Harvester Neon Sign Condition Information
Like all of our collectible signs, this rare vintage International Harvester neon sign is sold in original, unrestored condition as pictured. We do not believe in restoring old signs because it is our belief that every ding, dent, and blemish is part of the story and history of the item. This item is in Excellent (EXL) condition overall with an extremely clean sign face, and very little damage of any kind on the front side of the sign. The back of the housing can does have some light scratches, but overall this is as clean of an example of this sign as you will find. The only exception being the 101 point, museum quality neon restoration, which is done under the supervision of, certified, and signed by award winning artist H.J. Nick as meeting all world class fine are qualifications. This certification means each item bearing his signature is backed by over 100 years of manufacturing world class fine art handmade furnishings, and restoring America's finest collectibles to original, museum quality condition. Also, any electrical parts including wiring and solid state transformers have been replaced. The neon features a separate on/off toggle pull cord as pictured.
Watch Neon Sign Restorations Video
Watch Hanging Neon Signs Video
International Harvester Neon Sign Additional Details
This vintage International Harvester neon sign is original memorabilia from one of America's most iconic brands. We are a one stop shop when it comes to outfitting your man cave or game room. We can can outfit an entire gas station or automotive themed room for you, or help you find that one special item that has been missing from your collection. In addition to signs, we have vintage visible gas pumps, oil pumps, lubesters, and more that we have fully restored to working, museum quality condition. Our petroliana restorations are the best in the business because nobody has been doing it longer, or pays as much attention to detail.
This rare vintage International Harvester neon sign is the perfect conversation piece that will wow your friends and clients alike. Like all of our vintage collectible signs, it is guaranteed authentic, investment quality memorabilia. We specialize in those hard to find signs that serious collectors are looking for. All antique collectables offered are genuine memorabilia and appreciable assets, not fake reproductions. All items are fine collectable art at the highest world class collector level. Contact us today for pricing on this collectible vintage International Harvester neon sign or any of our collectible Americana, antique signs, old gas pumps, and classic collectibles at 1-800-292-0008.
ArtFactory.com & Award Winning Artist H.J. Nick Brass Tag Certification Details
The H.J. Nick Brass Tag Certification ensures each piece to be the genuine article. Backed by our over a century of experience, with our word is our bond reputation and guaranteeing or your money back "forever". The H.J. Nick Brass Tag Certification makes this item one of the highest appreciating, collectible investments that you can make. These items can be insured at stated value, usually on your home owners policy, for little added premium. Thus, making this a safer investment than even those insured by the FDIC, is much more fun to own, and puts you in control instead of the bank.
International Harvester Company History
The International Harvester Company (often abbreviated by IHC, IH, or simply International (colloq.)) was an American manufacturer of agricultural and construction equipment, automobiles, commercial trucks, lawn and garden products, household equipment, and more. It was formed from the 1902 merger of McCormick Harvesting Machine Company and Deering Harvester Company and three smaller manufactures: Milwaukee; Plano; and Warder, Bushnell, and Glessner (manufacturers of Champion brand). Its brands included McCormick, Deering, and later McCormick-Deering, as well as International. Along with the Farmall and Cub Cadet tractors, International was also known for the Scout and Travelall vehicle nameplates. In the 1980s all divisions were sold off except for International Trucks, which changed its parent company name to Navistar International (NYSE: NAV).
Case International Created (1985)
Given its monumental importance to the building of rural communities the brand continues to have a massive cult following. The International Harvester legacy non-profits host some of the largest agriculture related events in the United States.
Following years of financial and economic decline, International began selling its separate equipment divisions, starting with the sale of the construction division to Dresser Industries in 1982. In November 1984 IH finalized a deal with Tenneco to sell the farm equipment division to Tenneco's subsidiary Case Corporation, and the brand continues as Case IH which is owned by CNH. The European division exists today as McCormick Tractors and is owned by ARGO SpA of Italy. International became solely a truck and engine manufacturer and reorganized as Navistar International in 1986. Throughout its existence International Harvester was headquartered in Chicago, Illinois. In 2020 Volkswagen agreed to fully purchase the remaining shares of Navistar.
Case International was created in 1985 when Tenneco bought selected assets of the agricultural division from International Harvester and merged it into its J.I. Case Company (IH then became Navistar).Today Case IH is owned by CNH Industrial, an American-Italian corporation.
Read More At: International Harvester Company On Wikipedia And Case Corporation On Wikipedia And Case (IH) International On Wikipedia
Specializing In Rare Historic Artifacts From America's Heartland
Rural America is often referred to as "The Heartland", as this area is responsible for a majority of the country's commercial agriculture, and is also known as "America's Breadbasket". It was companies like International Harvester Company, Case International, and John Deere who were at the forefront of the industrial agricultural revolution that begin in the late 19th century, and reached its peak in the years following World War 2.
At ArtFactory.com we are committed to preserving this important piece of U.S. History by bringing rare artifacts such as this International Harvester Neon Sign back to their original glory. This is also why the signs are kept in original, unrestored condition, because every ding, dent, blemish, and even an occasional bullet hole is part of that item's unique history. Furthermore, this is why our neon restoration process is done using the same techniques and materials that would have been used in the the Early-Twentieth Century. This includes glass neon tubes hand blown by our in-house master glass blowers. Only when the safety and functionality is at stake is a modern part used, such as the solid state transformers, flashers, and electrical components. To top it all off, these items receive award winning artist H.J. Nick's brass tag signature certification as a genuine piece of world class fine art, and investment quality memorabilia.
If you are a serious collector of vintage farming collectibles, automobilia, petroliana, old soda signs, visible gas pumps, restored vending machines, porcelain, neon, and tin litho signs, then we have the largest collection of authentic, original items currently for sale anywhere in the world, and are adding new products to our inventory every day. We are a one-stop-shop for outfitting your man cave, game room, lady lounge, or theme business, and also specialize in rare and one-of-a-kind, centerpiece quality items, even for the most serious collector.
Case Eagle Neon Sign: Rare Vintage Farm Machinery Advertising – NS6345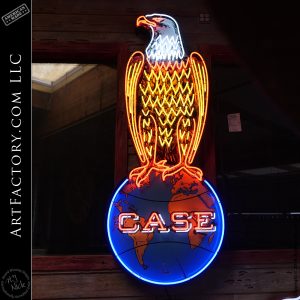 This Is An Extremely Rare, 1930's Era, Die Cut Porcelain Enamel Sign, With Fully Rebuilt Neon, And Is An Original Case Farm Machinery Corporation Advertisement, Featuring The Famous "Abe The Eagle" Mascot, Based On Wisconsin's 8th Infantry Logo
A World Class Fine Art Petroliana Collectible, With 101 Point Museum And Investment Quality Neon And Electrical Restoration, Including All New Electrical Parts, Wiring, And Solid State Transformers, Signed And Certified By Award Winning Artist H.J. Nick
International Harvester Neon Sign Info
When we use the terms "Museum Quality" and "Historically Correct," we are indicating our world-class process. We absolutely preserve all original signs, badges, glass with anomalies, natural aged patinas, and everything that makes a vintage item collectible. Maintaining non-structural damage, all age, wear, and tear is proudly displayed to showcase each item's unique charm.
Due to our earned reputation, we have the good fortune to be in high demand by collectors. Because most of our items have a waiting list, if you're looking for a specific collectible, please ask to be put on our first come, first served list (refundable deposit required).
We are the oldest and largest seller of fine art, historically correct, museum quality antiques and genuine, investment quality classic Americana.
World Class Collector Investments
Historically Correct
Genuine From Top To Bottom
Our Latest Investment Quality Authentic Vintage Neon Signs