Rare Red Crown Neon Sign: Early 1900's Antique Porcelain Advertising – NS7298
At ArtFactory.com We Specialize In The Rarest And Most Collector Coveted Authentic Petroliana Signs
This Sign Is Over 8 Feet Long And Is Perfect For Your Man Cave Or Auto Shop Wall


Description
Rare Red Crown Neon Sign: Early 1900's Antique Porcelain Advertising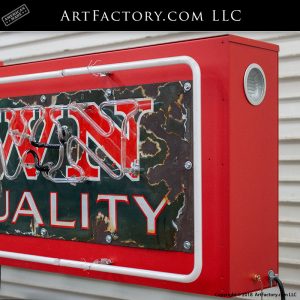 At ArtFactory.com we specialize in the rarest, and most highly collector sought after vintage petroliana. This rare Red Crown neon sign from the 1930's is not only extremely rare, but is with working neon. We have completely rebuilt the neon and the can that the sign sits on, and added a solid state transformer and on/off pull switch. The porcelain sign face is black with "Red Crown" in large red lettering with a white outline, and with white neon surrounding the outer edges of the sign. The second row reads "The Gasoline Of Quality" in white lettering with a red outline. The porcelain is in unrestored condition and maintains all original wear. All of our porcelain signs are in original unrestored condition as we believe all porcelain signage should be kept. This large sign is over 8 feet long, and is the perfect display piece for your man cave, or any type of commercial automotive service business.
Never settle for low quality reproductions when you can have the genuine article. Authentic, original vintage porcelain signs and petroliana have investment value that reproductions never will. All of our collectible signs, restored vending machines, and museum quality vintage visible gas pumps are real, authentic Americana with future appreciable value. Furthermore, all of our museum quality restorations are certified to fine art quality by award winning artist H.J. Nick. Our restorations are the finest quality available anywhere because nobody has been doing it longer, or takes the attention to detail that we do at ArtFactory.com. We have one of the largest selections of collectible vintage petroliana available anywhere, and over a century of experience in the antiques restoration business. Call us today at 1-800-292-0008 fo pricing on this rare Red Crown neon sign, or any of our other museum quality collectible Americana.
Red Crown Brand Historical Information
The Red Crown Regular and White Crown Premium gasolines marketed by parent company Standard Oil Co. Inc. was an American oil producing, transporting, refining, and marketing company. Established in 1870 by John D. Rockefeller and Henry Flagler as a corporation in Ohio, it was the largest oil refinery in the world of its time. Its controversial history as one of the world's first and largest multinational corporations ended in 1911, when Standard Oil was declared a monopoly, which eventually broke up the dynasty.
Many company assets were forced to divid among the companies. One of those was the nationally recognized "Standard" brand name. The smaller emerging oil companies generally used the popular "Red Crown" and "White Crown" labels —without the displaying the Standard label.
Standard Oil Company 1911 Break Up
Prior to the split in 1911, all of the various Standard "divisions" then in existence sold gasoline under the brandname "Red Crown". At that time was only one of numerous picturesque trademarks then in use by the company. Most consumer trademarks from that era were graphically intricate. Some examples are the various tobacco trademarks with oriental or Indian themes, the Morton Salt girl, the Bon Ami chick, and many others.
With no relationship whatsoever to the product, it was simply one of the many image-trademarks of the era. That usage would be simple enough had Standard remained intact. That was not to be, for in 1911 the Supreme Court declared that Standard would be broken into 33 component companies.
51.1 MPG In 1917 With Red Crown Gas
On a humid night in July of 1917 a Franklin touring car carrying 4 passengers circled the Chicago Boulevards for an amazing 51 miles on a measured gallon of Red Crown Gasoline. This became the world record.
The test was performed under the observation of Professor Roesch (Engineering at the Armour Institute of Technology) and purchased the gasoline from a local garage to make sure that it was the usual commercial variety. Red Crown is always the same, no matter where you get it. The secret is in the range and adjustment of boiling point fractions.
We Have A Wide Variety Of Authentic Vintage Red Crown Gas Collectibles
Rare Red Crown Neon Sign Info
When we use the terms "Museum Quality" and "Historically Correct," we are indicating our world-class process. We absolutely preserve all original signs, badges, glass with anomalies, natural aged patinas, and everything that makes a vintage item collectible. Maintaining non-structural damage, all age, wear, and tear is proudly displayed to showcase each item's unique charm.
Due to our earned reputation, we have the good fortune to be in high demand by collectors. Because most of our items have a waiting list, if you're looking for a specific collectible, please ask to be put on our first come, first served list (refundable deposit required).
We are the oldest and largest seller of fine art, historically correct, museum quality antiques and genuine, investment quality classic Americana.
World Class Collector Investments
Historically Correct
Genuine From Top To Bottom
Our Latest Museum Quality Authentic Vintage Neon Signs