Valvoline Motor Oil Lollipop Sign: Rare 1950's Original With Stand – VSS0216
We Have One Of The Largest Collections Of Authentic Collectible Petroliana Available Anywhere
Original Unrestored Gas Station Curbside Signage With Original Valvoline Motor Oil Base

Description
Valvoline Motor Oil Lollipop Sign: Rare 1950's Original With Stand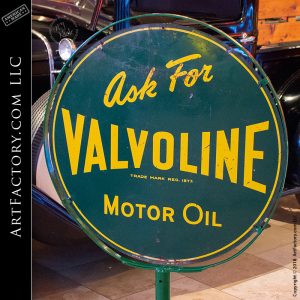 This 1950's era, Valvoline Motor Oil lollipop sign, is just one of the hundreds of authentic, vintage petroliana items we have available at ArtFactory.com. This gas station curbside sign was made in the USA in 1953, and is in original condition with its original base and stand. We have over a century of experience in the antique restorations, and original vintage petroliana and Americana marketplace. This sign and is in as-is, unrestored condition as we believe that all vintage porcelain signs should maintain their blemishes and character. The cast iron stand and base has been repainted and hand lettered using period correct colors. All of our vintage signs are authentic, investment quality collectibles. We do not deal in reproductions, nor do we do offer restored porcelain signage. All of our signs are guaranteed to be authentic, and our guarantee is backed by over a century of experience in the collectible antiques marketplace.
The sign is a set on a green background with yellow lettering. Its a double sided sign that reads "ASK FOR VALVOLINE MOTOR OIL" on both sides of the sign. The frame, base, and sign post are also green and the words "VALVOLINE MOTOR OIL" are on both sides of the base in yellow lettering. The sign face has some light wear, scratching, and dents as would be expected from a sign of this age but overall is in excellent condition, and ready to be displayed. This Valvoline Motor Oil lollipop sign is perfect for any man cave, or automotive business.  Call us today at 1-800-292-0008 to get a quote on this Valvoline Motor Oil lollipop sign, or any of our other man cave collectibles.
Valvoline Motor Oil Historical Information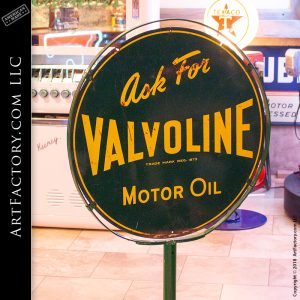 1866 - Valvoline was founded by Dr. John Ellis who formulated a petroleum-based lubricant in 1866 and trademarked the Valvoline name in 1873. Unable to find any healing powers in crude oil, Dr. John Ellis changes course and develops a petroleum lubricant for steam engines running at high temperatures.
1939 - Valvoline develops a single grade oil, called X-18, that eliminates the need for 18 other specific car lubricants.
1945 - Leading up to the end of WWII, Valvoline is widely used to lubricate allied vehicles. If it's good enough for an army fleet, you can use it in your family car.
1954 - With the economy in high gear, hot rods all the rage and people driving more often, automakers shift to the powerful overhead valve v8 engine. Valvoline responds with its all-climate oil, so people don't have to switch oils for each season.
1965 - With America's obsession with the speed and power of muscle cars, Valvoline introduces an oil specifically designed for racing, now called VR1.
Read More At: https://www.valvoline.com/our-story/our-history
THIS ITEM IS SOLD!
Note: Due to our earned reputation, we have the good fortune to be in high demand by collectors. We always have a waiting list for most items. We suggest if you are looking for a specific collectable, restored to this level, please ask to be placed on our first come, first served list. (Refundable deposit required.) Call 1-800-292-0008
Valvoline Motor Oil Lollipop Sign Info
When we use the terms "Museum Quality" and "Historically Correct," we are indicating our world-class process. We absolutely preserve all original signs, badges, glass with anomalies, natural aged patinas, and everything that makes a vintage item collectible. Maintaining non-structural damage, all age, wear, and tear is proudly displayed to showcase each item's unique charm.
Due to our earned reputation, we have the good fortune to be in high demand by collectors. Because most of our items have a waiting list, if you're looking for a specific collectible, please ask to be put on our first come, first served list (refundable deposit required).
We are the oldest and largest seller of fine art, historically correct, museum quality antiques and genuine, investment quality classic Americana.
World Class Collector Investments
Historically Correct
Genuine From Top To Bottom
Our Latest Investment Quality Authentic Vintage Porcelain Signs