Vintage Coca-Cola Flange Sign: Original 1949 Porcelain Double Sided – CCVS1948
Very Rare, Authentic 1940's Era Double Sided Drug Store And Soda Fountain Signs
At ArtFactory.com We Have One Of The Largest Selections Of Investment Quality Collectible Coca-Cola, Pepsi, And Soda Shop Signs Available Anywhere

Description
Vintage Coca-Cola Flange Sign: Original 1949 Porcelain Double Sided
This very rare, Coca-Cola flange sign is an original 1940's era advertisement used indoors at drugstores and soda fountain shops. At ArtFactory.com we have on of the largest selections of original, vintage collectible signs available anywhere, guaranteed authentic, and backed by over a century of experience. The classic porcelain sign is a double sided flange featuring a red and white Coke button sign attached to a silver colored arrow that connects to the flange. The sign was manufactured by the Allen-Morrison company of Lynchburg, Virginia.
We don't deal in reproductions because these items will never have long term value. We sell only genuine, investment quality collectible items that will have future appreciable value. We are a one-stop shop for the soda collector, as we also have restored vintage vending machines, coolers, and even fountains, all restored to working, museum quality condition.
Vintage Coca-Cola Flange Sign Specifications
Type: Double sided porcelain flange sign
Company: The Coca-Cola Company
Product: Coke
Type Of Advertising - Drugstore
Manufacture Date: August 1949
Color: Red, white, silver
Dimensions: 22-1/2"  x  18"  x  2
Manufacturer: Allen-Morrison Company
Country Of Manufacturer: USA
Condition: Original, as-is, see photos for details
Vintage Coca- Cola Flange Sign Additional Details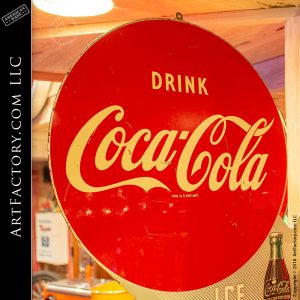 The arrow flange is silver in color, with a white striped pattern and the words "ICE COLD" in white lettering. There is an embossed Coca-Cola bottle from the era in the portion of the arrow closet to the wall. The double sided button showcases a red background with the word "DRINK" in white at the top of the button, the words "Coca-Cola" in white script across the center. The sign manufacturer stamp of "A-M 8-49" which means this sign was manufactured in August of 1949 is along the bottom edge of the arrow in a black stamped lettering. Call us today at 1-800-292-0008 for pricing on this vintage Coca-Cola flange  sign, or any of our other man cave and game room collectibles.
Coca-Cola Company History
Coca-Cola, or Coke is a carbonated soft drink manufactured by The Coca-Cola Company. Originally intended as a patent medicine, it was invented in the late 19th century by John Pemberton and was bought out by businessman Asa Griggs Candler, whose marketing tactics led Coca-Cola to its dominance of the world soft-drink market throughout the 20th century. The drink's name refers to two of its original ingredients: coca leaves, and kola nuts (a source of caffeine). The current formula of Coca-Cola remains a trade secret, although a variety of reported recipes and experimental recreations have been published.
The Coca-Cola Company produces concentrate, which is then sold to licensed Coca-Cola bottlers throughout the world. The bottlers, who hold exclusive territory contracts with the company, produce the finished product in cans and bottles from the concentrate.
Read More At: Coca-Cola on Wikipedia
Vintage Coca-Cola Flange Sign Info
When we use the terms "Museum Quality" and "Historically Correct," we are indicating our world-class process. We absolutely preserve all original signs, badges, glass with anomalies, natural aged patinas, and everything that makes a vintage item collectible. Maintaining non-structural damage, all age, wear, and tear is proudly displayed to showcase each item's unique charm.
Due to our earned reputation, we have the good fortune to be in high demand by collectors. Because most of our items have a waiting list, if you're looking for a specific collectible, please ask to be put on our first come, first served list (refundable deposit required).
We are the oldest and largest seller of fine art, historically correct, museum quality antiques and genuine, investment quality classic Americana.
World Class Collector Investments
Historically Correct
Genuine From Top To Bottom
Our Latest Investment Quality Authentic Vintage Porcelain Signs