Bennett 546 Gas Pump: Original Vintage With Sinclair Sign And Globe – VGP6225
This Is An Original, 1940's Era, Dial Faced Electric Gas Pump, It Is Being Sold Reconditioned (As-Pictured), And Has All Original Parts And Manufacture Plates, Not Sold In Working Condition
Includes Metal Sinclair HC Gasoline, Round Belly Plate Decal And Reproduction Capco Globe Light To Match The Original Green And White Sinclair Paint Scheme

Description
Bennett 546 Gas Pump: Original Vintage With Sinclair Sign And Globe
This vintage Bennett 546 gas pump is an extremely rare, original electric gas pump from the 1940's. At ArtFactory.com, we have a large selection of fully restored vintage visible gas pumps. Our restorations are second to none, because nobody in the business has been doing it longer, or pays as much attention to details. However, if a world class fine art, museum quality restoration, is out of your budget, then this rare, unrestored Bennett 546 pump is the perfect for your collection, and is an ideal item for your first home restoration project. This is a fully original Bennett 546 dial face, electric gas pump, with a Sinclair paint scheme, and signage. It includes a reproduction, Sinclair HC Gasoline capco globe, with working lighting, and a decal of a Sinclair HC belly plate sign. It measures 75 inches tall by 27 inches wide, and is 16 inches deep. This vintage Bennett 546 gas pumps is a perfect display piece for your gas station themed man cave or game room.
Vintage Bennett 546 Gas Pump Specifications
Type: Genuine Vintage Bennett Gas Pump With Original Gas Hose And Nozzle 
Gas Company: Sinclair HC Gasoline
Make: Bennett
Model: 546
Era: 1940's
Color: Green/White/Black/Red
Dimensions: 75 Inches Tall By 26 Inches Wide By 16 Inches Deep
Place Of Manufacture: Michigan, U.S.A.
Condition: Fully Reconditioned By Previous Owner/Non-Working Condition With Working Lights As Pictured And Reproduction Capco Gas Glass Globe and Belly Plate Decal
If A World Class Museum Restoration Is Out Of Your Budget
When we buy large collections we usually have to purchase every thing in the room. We note restorations or reconditioned items that are not to our 101 point collector standards just for clarity. These items are often very nicely done offered at prices much less than the auction market. Most are not museum or investment quality. However each item offered has been inspected or improved by ArtFactory.com and H.J. Nick, and is offered as is and guaranteed to be as stated.
See our Boneyard listings for other bargains and fix it your self opportunities or many other items that we have determined that may be reproductions or not worthy of our restoration process or improvements by us.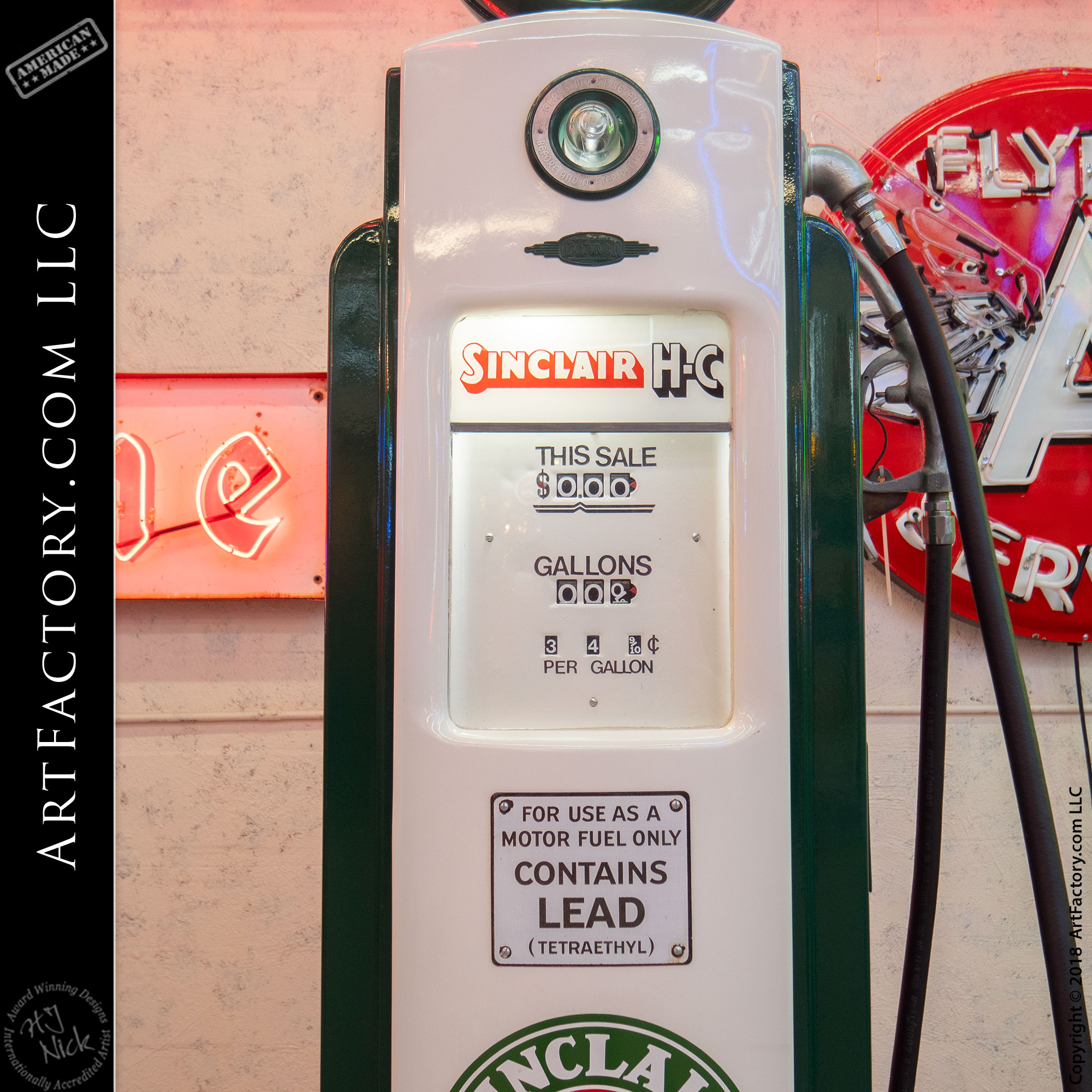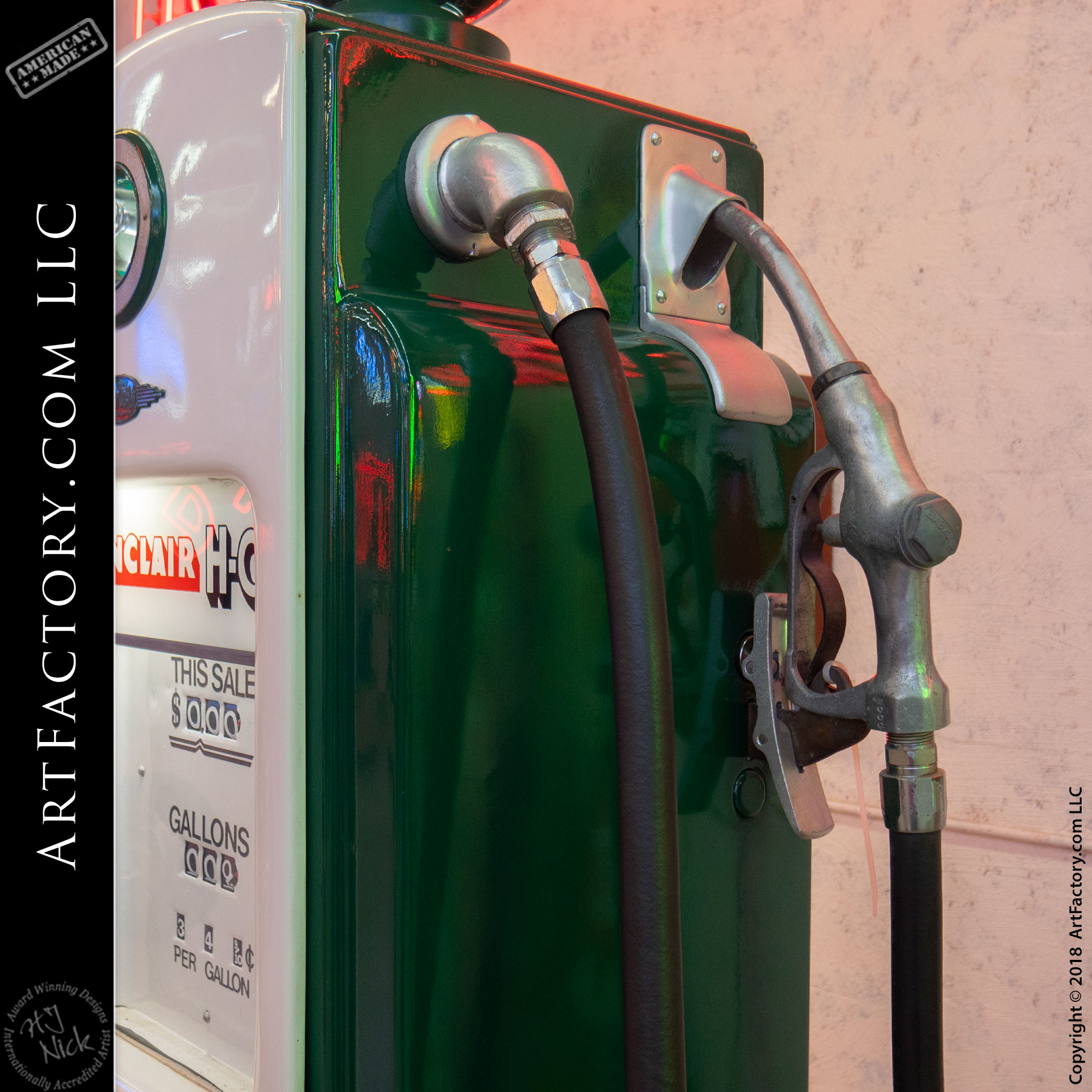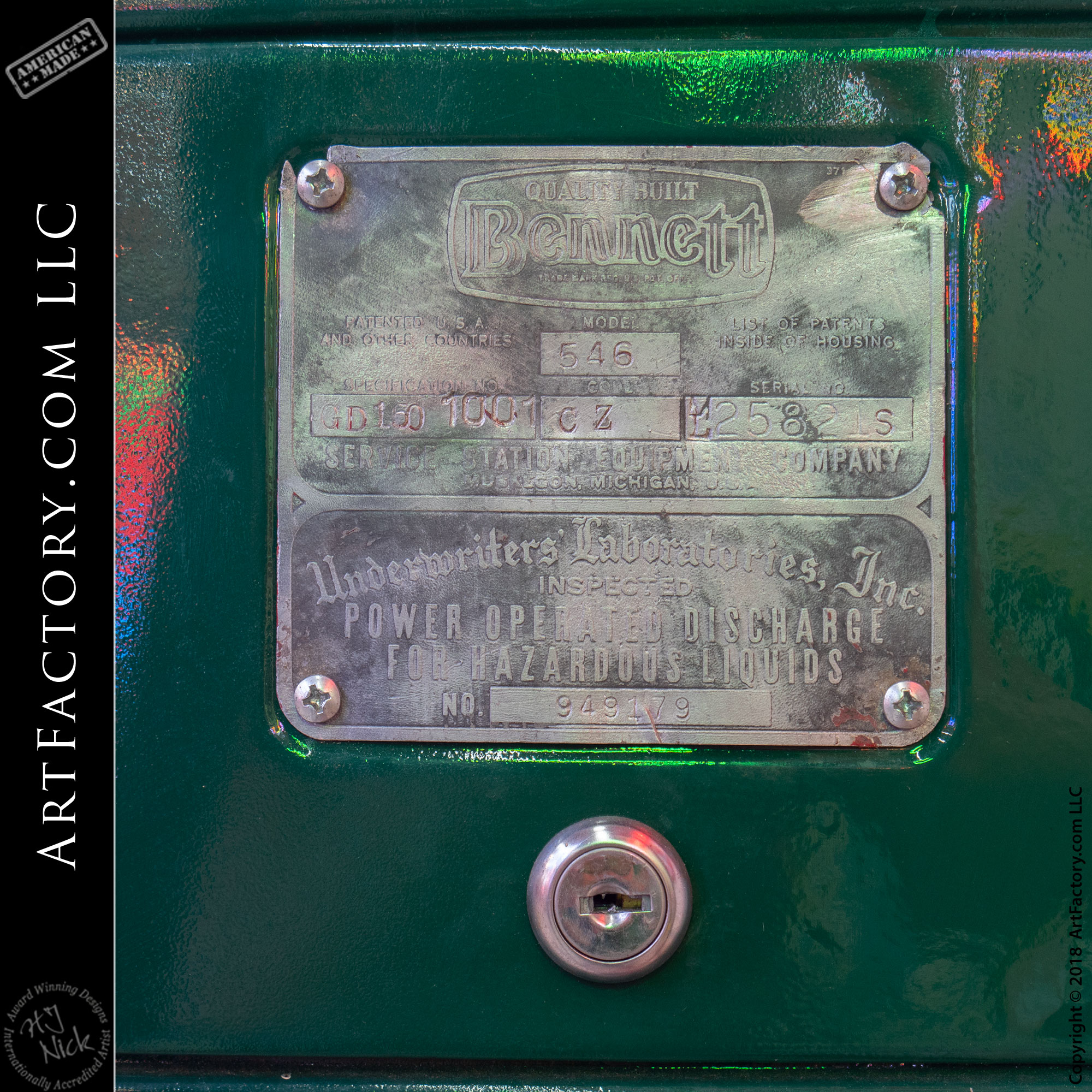 Bennett 546 Gas Pump Additional Details
This original vintage Bennett 546 gas pump, is sold in 3rd party reconditioned, condition (as pictured). This electric dial faced pump from the 1940's, and the other pumps found in our Affordable Starter Collectibles section are NOT, ArtFactory.com museum quality restorations. However, these items are guaranteed, authentic, original collectible gas pumps, that have been inspected by award winning artist H.J. Nick, and our staff of experts. Our team of experts has several centuries of combined experience, and knowledge in the vintage automobilia and petroliana collectibles marketplace. In other words, our guys have seen it all when it comes to old automotive and gas station collectibles, and know what specific features to look for when it comes to determining the difference between an original item, and a reproduction.
This Bennett 546 gas pump is sold with a reproduction capco Shell Logo globe light and decal of a Shell Premium Gasoline plate sign. This vintage electric gas pump is perfect for your man cave or game room, and is a great affordable starter collectible item, if a fully restored original is outside of your budget. However, if you are looking for a work of genuine fine art, we also offer fully working, museum quality restored vintage visible gas pumps that can be viewed by clicking this link. To inquire about purchasing the vintage Bennett 546 gas pump call us at 1-800-292-0008.
Vintage Gas Pump Restoration Info
All brass parts are solid polished original brass
Rare collectors preferred original "Milk Glass" globe
All sign-age is correct porcelain original era material (no fake foreign made parts or signs used)
All internals have been polished and rebuilt
Pump is in working order
Backed by a century of fine craftsmanship since 1913
We are the oldest and largest restorer of fine art, museum quality, historically correct antiques, and supplier of genuine investment quality un-restored classic Americana (namely signs). Museum quality, historically correct means a world class restoration that preserves all original signs, badges, glass with anomalies, natural aged patina, ect. with non structural damage. All age wear and tear is proudly displayed, when possible, on signage and gas pump globes. Contact the Art Factory for information on restoring your antique gas pumps at 1-800-292-0008.
Our Latest Museum Quality Fully Restored Vintage Visible Gas Pumps