Gilbert & Barker Vintage Visible Gas Pump: Model 67 With Lion Oil Globe – GB67
Fully Restored To Working, Museum Quality Standards With Original Parts, Globe, And Signage
Very Hard To Find, And Highly Sought After, Vintage Gibert & Barker Model 67 Pump

Description
Gilbert & Barker Vintage Visible Gas Pump: Model 67 With Lion Oil Globe
This very rare, genuine Gilbert & Barker vintage visible gas pump has been fully restored to working order by our experts at ArtFactory.com. It has been restored both inside and out with era correct parts and signage. The centerpiece is the original, extremely rare and hard to find, original, Lion Oil milk glass globe which was found sitting in a barn, still in original condition. The Gilbert & Barker Model 67 is a truly scarce find as it had limited production, and was produced for only one year, in 1924. That makes this one of the only examples from 1924 that has been fully restored with all original part and signage from the year.
This vintage gas pump is a hand pump 10-gallon, clear glass, visible tank with 10 gallon measuring stick . All parts on this antique gas pump are original and in full working order. All brass parts on this restored, Gilbert & Barker visible gas pump are solid polished brass. This restored gas pump features the rare, collector preferred milk glass globe. This globe is an original from the 1920s with genuine logo face plates for Lion Oil.
Gilbert & Barker Model 67 Gas Pump Restoration Details
All Polished original brass
Original crystal glass gas cylinder
Custom hand cut layered logo "Lion Oil/Visible" with solid brass lion
Solid polished original brass gas nozzle with new correct gas hose
Solid brass pump handle era correct lock with key
Custom hand forged clam shell lighting
Rare collectors preferred original "Milk Glass" globe
Pump is in full working order ready to pump gas or beer
Backed by a century of fine craftsmanship since 1913
Gilbert & Barker Vintage Visible Gas Pump Before And After Restoration Condition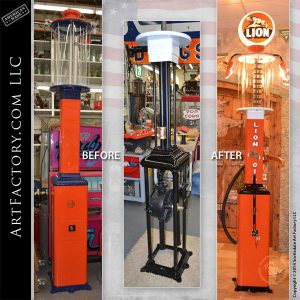 We acquired this as a so-called restored gas pump in the condition a lot of fast process restores are found in. In the business, we refer to these as a "20 Footer" (meaning it only looks good from 20 feet or more away). We received this gas pump as shown in the "before" photo. It did not work, had no lighting or covers, the paint was thin and of poor quality. Not only that, but some parts were incorrect, and the gas tank was a plastic insert. It also had a reproduction globe among other issue. In other words, it would have been better off in its original rusty state. However, because of it's extreme rarity, we took this nearly 100-year-old zombie, and restored it back to better than its original glory.
All vintage gas pumps, antiques, memorabilia, automobilia, and petroliana available from ArtFactory.com are real collectable appreciable assets. We do not deal in fakes or reproductions. If we say "Restored" we mean complete restoration to its original or better production offering in its era. If we say "Restormod" we mean exact copy with some improved modifications or customizations. All items are collectable fine art at the highest, investment quality, world class collector level. All restorations signed and certified for quality, originality, and authenticity by world renowned artist H.J. Nick. Call us for a quote on a restored vintage visible gas pump today at 1-800-292-0008.
Gilbert & Barker Model 67 Gas Pump - Specifications:
Gas Company - Lion Oil Company
Make/Model - Gilbert & Barker T-67 10-Gallon Visible Pump
Era - Pump: 1924; Globe 1920,s
Color - Orange, white, and black
Height - 105" (without globe, 123" with globe)
Base - 16" x 16"
Condition - Antique/Restored museum quality and historical correct
Notable Features:
Original milk glass globe light with two LION glass advertising inserts. G&B hand pump model with 10 gallon glass jar.
Lion Oil Company Historical Facts

Lion Oil Company, the largest independent supplier of sulfur crude oil, was an oil refinery founded in 1922 by oilman and philanthropist Colonel Thomas Harry Barton (1881-1960) in El Dorado, Arkansas. The Lion Oil grew rapidly with the discovery of oil in the Smackover Field in 1923. The Lion Oil Refining Company produced between 10,000 and 12,000 barrels of oil daily after acquiring 1,600 acre leases in Smackover.
By 1929 Lion Oil moved into wholesale marketing and gasoline sales. Lion Oil was operating over 400 gas stations by 1932 and expanded further after acquiring Marathon Oil properties in 1935 in both bulk plants and service stations. Lion Oil Company started trading on the NYSE in 1939. During World War II Lion Oil helped the war effort by producing explosives material in the Ozark Ordinance Works. In 1946 they boasted $22 million in assets and officially changed their name to Lion Oil Co.
Read More At: Lion Oil History
Vintage Gas Pump Display Carts: Islands With Wheels For Heavy Collectibles

At ArtFactory.com we make vintage gas pump display carts so that you can conveniently move your vintage visible gas pumps and other heavy collectibles from place to place. These custom islands with wheels can be come built to suit you needs. They can be built to hold one gas pump, or you whole collection, and can also be built for lubesters and vending machines. These vintage gas pump display carts are an original design by award winning artist H.J. Nick, and are hand built in heavy gage steel. The even come complete with electrical wiring so that your pumps can plug right into the island. The are also UL listed.
Finally, a convenient way to display and transport your heavy collectibles. This example includes 25 Foot industrial duty cord with plug wired and 4 duplex electrical outlets. Vintage gas pump display carts can be custom designed to any size, and like all of our products are built custom made to order. They can also be hand finished in any color to match you collectibles or the color scheme of your man cave. The vintage gas pump display carts pictured feature a 1930's-50's era Texaco color theme. They are custom finished to appear as worn and aged concrete colored Texaco red and grease stained in a battleship gray.
Gilbert & Barker Vintage Visible Gas Pump Info
When we use the terms "Museum Quality" and "Historically Correct," we are indicating our world-class process. We absolutely preserve all original signs, badges, glass with anomalies, natural aged patinas, and everything that makes a vintage item collectable. Maintaining non-structural damage, all age, wear, and tear is proudly displayed to showcase each item's unique charm.
Due to our earned reputation, we have the good fortune to be in high demand by collectors. Because most of our items have a waiting list, if you're looking for a specific collectible, please ask to be put on our first come, first served list (refundable deposit required).
We are the oldest and largest seller of fine art, historically correct, museum quality antiques and genuine, investment quality classic Americana.
World Class Collector Investments
Historically Correct
Genuine From Top To Bottom
Our Latest Museum Quality Fully Restored Vintage Visible Gas Pumps