Keesee Vintage Visible Gas Pump: With Sinclair Aircraft Milk Glass Globe – KEZ106
1920's Era Antique Gas Pump, Fully Restored To Original, Working Museum Quality Condition
Includes Original Period Correct Signage From Sinclair Oil Company, With Original Sinclair Aircraft Gas Globe Light

Description
Keesee Vintage Visible Gas Pump: With Sinclair Aircraft Milk Glass Globe
This Keesee vintage visible gas pump is a fully restored Model F 106A GASO hand operated pump. Like all of our vintage gas pump restorations, it has been restored both inside and out to working museum quality standards. This is a fully original Keesee vintage visible gas pump from the 1920's, with original, period correct signage from Sinclair Oil. This Keesee gas pump features an original, blue tinted glass, 10 gallon tank. It has been branded with Sinclair Oil signage that is original from the period, and features an original milk glass gas pump globe, with historically correct reproduced red and green Sinclair Aircraft logo from the Sinclair Oil Corp. The antique gas pump seen here showcases the Keesee wide shell style of gas pump from 1920s. The body of the pump is galvanized metal with red accent colors and a Sinclair Oils genuine vintage belly plate sign. The glass gas tank includes original measuring sticks, and a price placard. This old gas pump has been completely restored to museum quality. All parts are historically correct and original, and are in full working order. Contact ArtFactory.com today at 1-800-292-0008 to get started on your vintage gas pump restoration today. We can restore vintage gas pumps to any station or theme of your choice.
Keesee Vintage Visible Gas Pump Specifications
Manufacture: Keesee
Make/Model: 106A Model F
Capacity: 10 Gallons
Era: 1925
Place Of Manufacture: Los Angeles California, U.S.A.
Theme/Station: Sinclair Oils (With Sinclair Aircraft Original Milk Glass Globe)
Color: Galvanized And Red
Height: 119"
Base Diameter: 24"
Condition: Antique/Restored museum quality and historical correct
Notable Features:
Original milk glass Sinclair Arcraft globe light. positive measure attachment hand pump model with original blue tinted glass 10 gallon tank.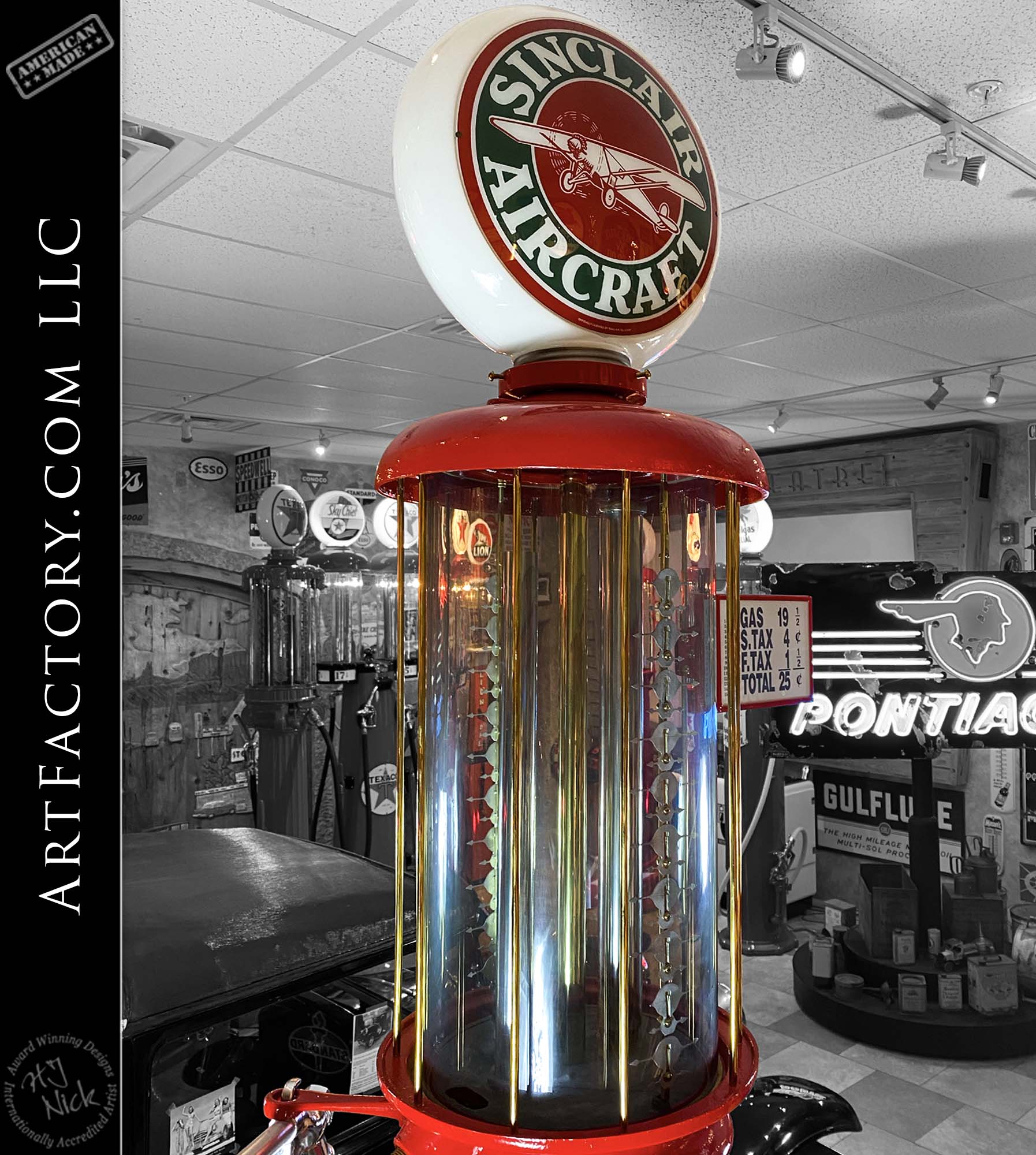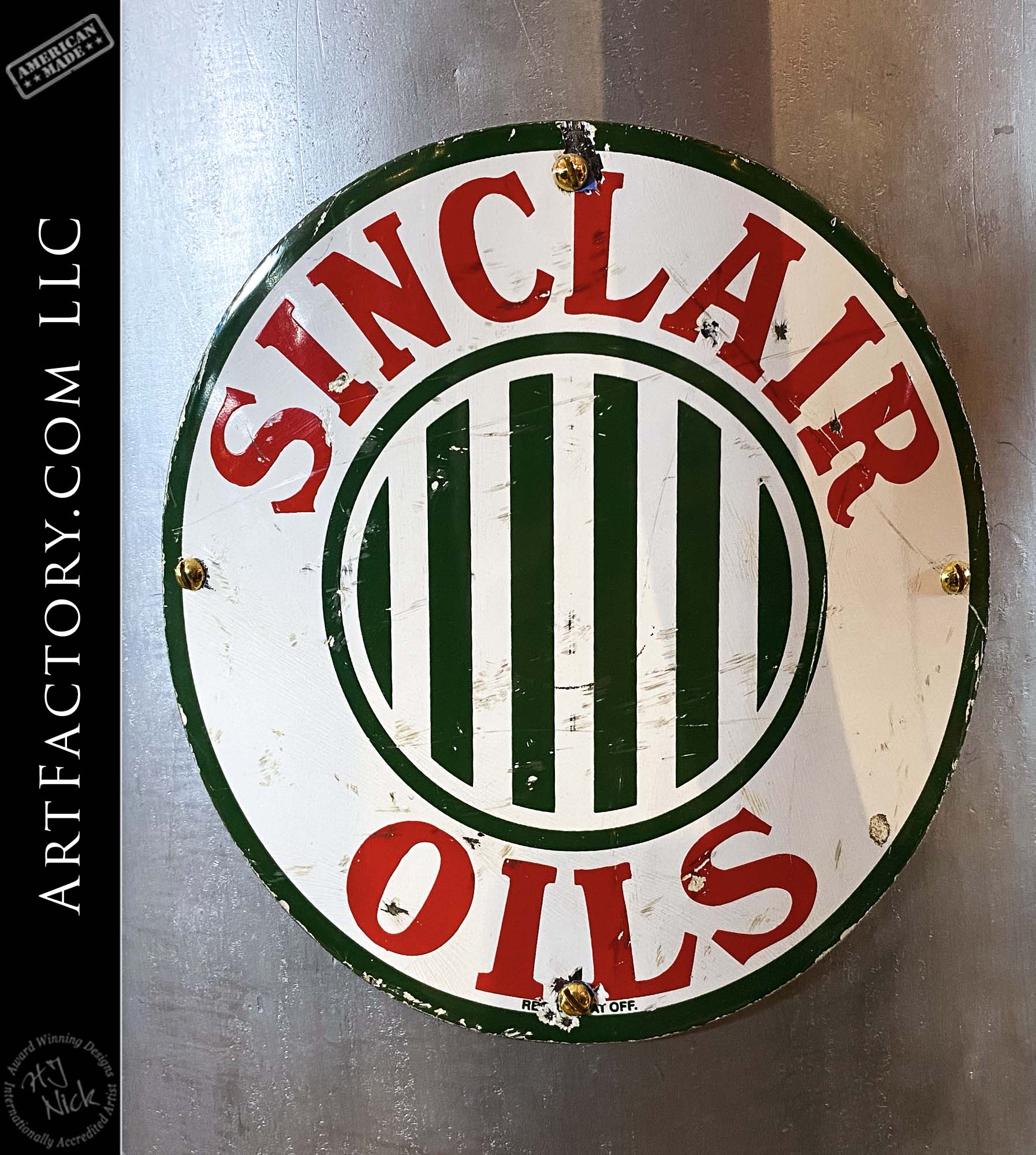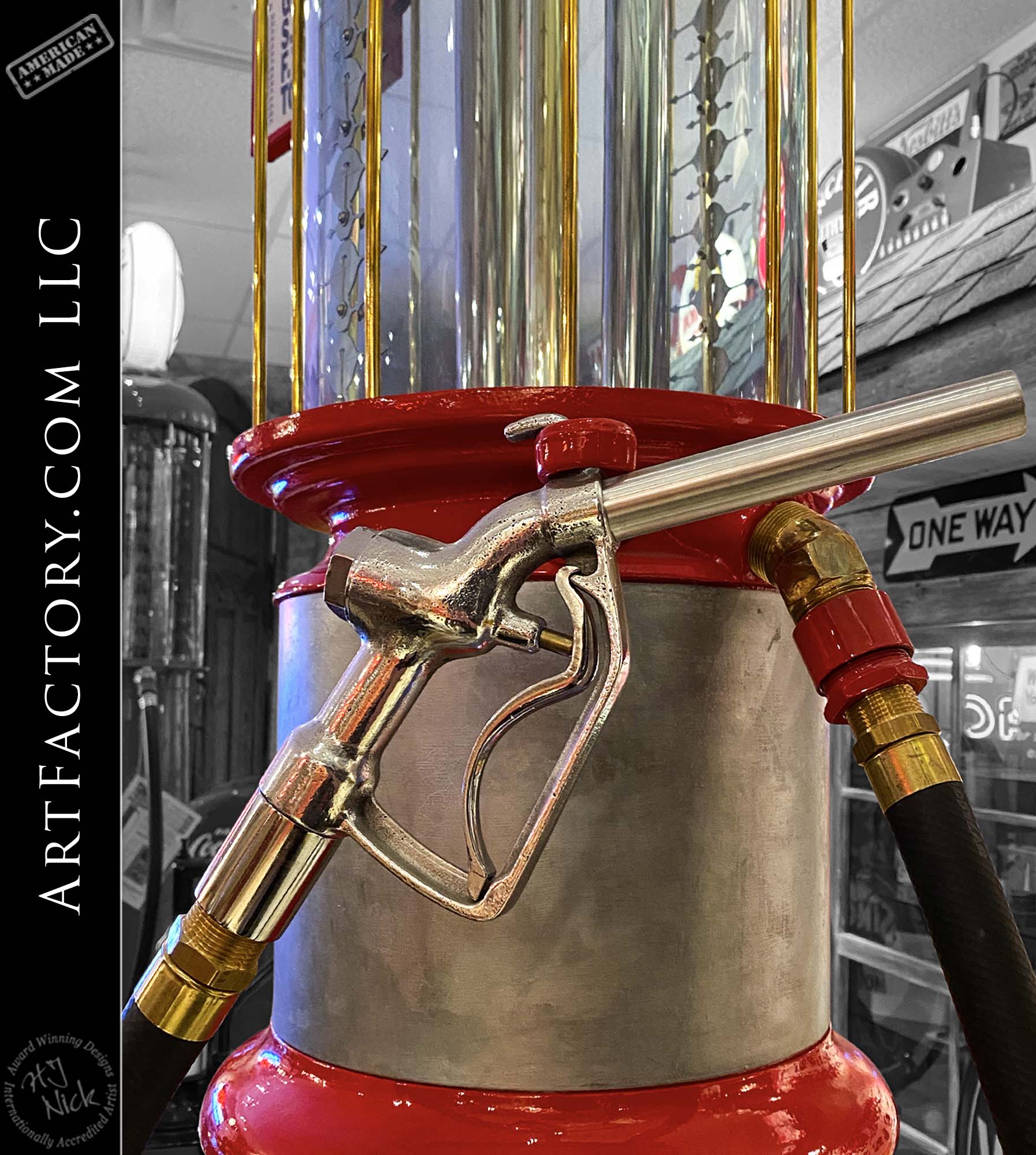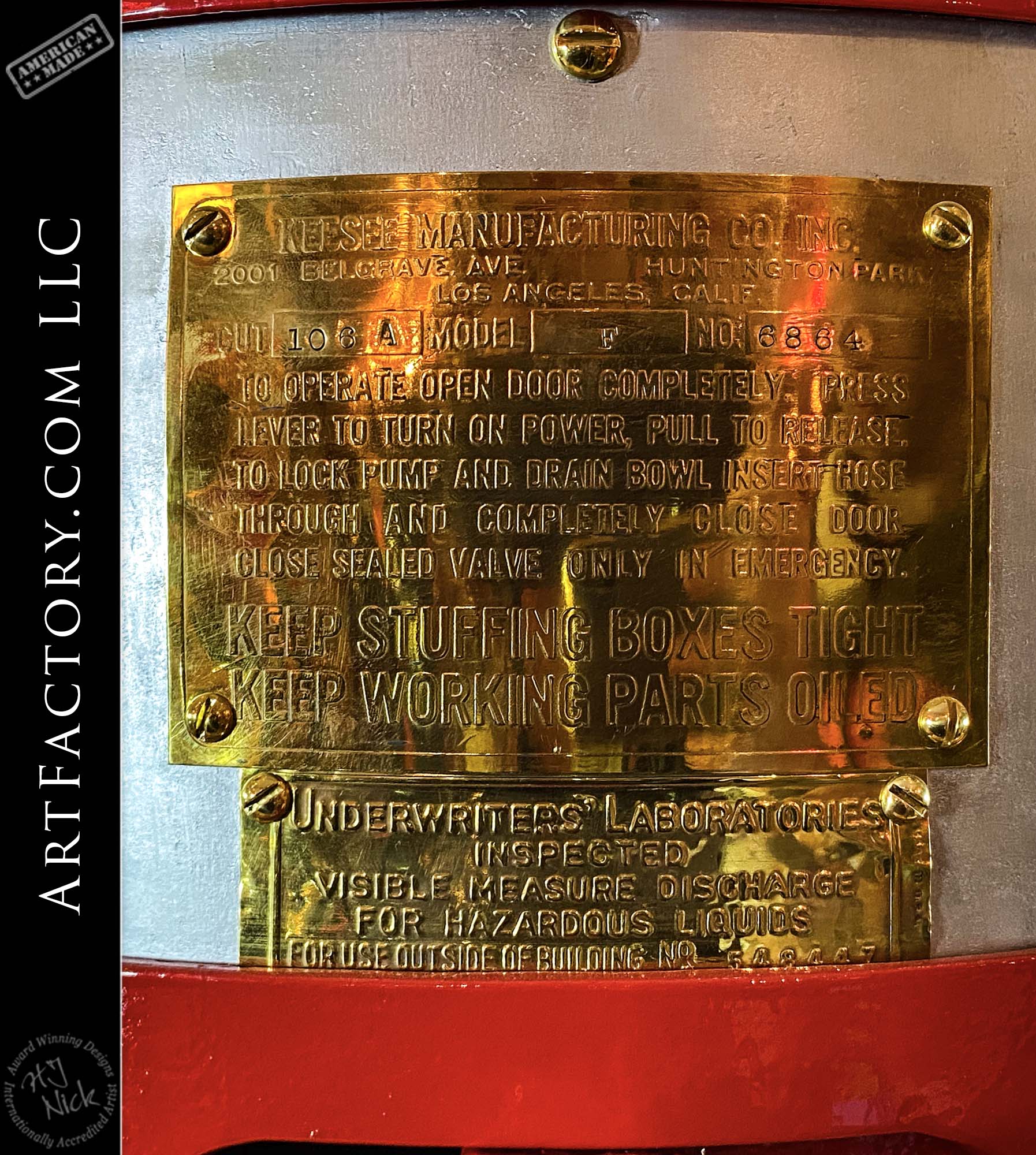 From Keesee Vintage Visible Gas Pump 106 Model F GASO Original Sales Literature 1928
Keesee Manufacturing Co., Inc.
A California Corporation
Exclusive Builders of Keesee Products
Visible Gasoline Pumps, Tanks, Oil Storage Systems
Factory and Office
701-753 West Belgrave Avenue
Huntington Park
Los Angeles, California
Phones: Delaware 3441-3442
Cut 106A, Model F GASO, is a hand operated 10-gallon Visible Unit, and can be installed on any underground storage tank on which a suction pump is used, or can be installed with any new hand pump installation. It is operated by means of a hand lever forward and backward motion, such as is used on this type of equipment.
Cut 106A is furnished complete with all mechanism from the ground up, including wet and dry hose, unions for connecting to installation piping and also check valve at the base of the pump. It is fitted with double action plunger-type piston pump that will raise 10 gallons into the bowl easily in 40 seconds. The pump requires no priming, has self closing valves, is easily operated and is locked at night by removing the handle therefrom. Any lighting extra.
Quantity markers for gallons and half gallons are placed inside on opposite sides of the bowl. Said markers are fit in such manner that they touch the glass. This insures accurate reading. The markers or gallon indicators are made and calibrated for each bowl and permanently set, tested and sealed in the factory, and when once made and installed, any after adjustment is eliminated, if the pump remains level.
Gasoline is dispensed through the automatic self-closing hose nozzle, especially designed for this type of equipment. The rate of dispensing is approximately 10 gallons in 40 seconds.
The pump may be installed any reasonable distance from the storage tank. Installations are made in accordance with any of the four designs shown, or to meet any other requirement desired.
This pump is operated by a forward and backward movement of the lever, pumping gasoline into the bowl up to the overflow. When pumping is stopped the level of gasoline returns to the zero mark ready to be drawn out. The bowl is drained at night by means of a positive quick-opening valve which completely drains the 10 gallons in approximately 20 seconds. To open the drain valve, completely shut the door, and to shut the drain valve, completely open the door.
Cut 106A is well constructed in every detail. It is fitted with plunger type, double acting, hand operated piston pump. The piston is bronze with regular piston rings therein. There is no leather or rubber deteriorating parts used in this plunger type of pump. This pump requires no priming, is easily operated and is fitted with a clutch-like removable handle. Fitted with sliding door, which provides for locking the hose and valve in at night, also for opening and closing the fire valve, the door being at the extreme top for opening and at the extreme bottom for closing. The gallon and half gallon indicators are made for each individual bowl, are permanently set and sealed in place. The bowl is cleaned by removing the canopy, care being taken not to disturb the markers, the canopy being replaced securely before again resuming operation. To clean the outside of the bowl, the screen is removable.
The pump may be fitted with either side or top lighting with enclosed vapor-proof fittings at additional cost of $12.00.
Cut 106A is 8 feet 6 inches without lights, base diameter 26 inches, hole in island for pipe 15 inches in diameter. Shipping weight, crated, approximately 400 pounds.
All models of Keesee Equipment are manufactured in what is called the progressive type, that is, the parts of each model are interchangeable with the other. Outward appearance of each are the same.
Effective September 15, 1928, for Pacific Coast States
Cut 106A Model F GASO Hand Operated, visible pump $135.00
Vintage Gas Pump Display Carts: Islands With Wheels For Heavy Collectibles

At ArtFactory.com we make vintage gas pump display carts so that you can conveniently move your vintage visible gas pumps and other heavy collectibles from place to place. These custom islands with wheels can be come built to suit you needs. They can be built to hold one gas pump, or you whole collection, and can also be built for lubesters and vending machines. These vintage gas pump display carts are an original design by award winning artist H.J. Nick, and are hand built in heavy gage steel. The even come complete with electrical wiring so that your pumps can plug right into the island. The are also UL listed.
Finally, a convenient way to display and transport your heavy collectibles. This example includes 25 Foot industrial duty cord with plug wired and 4 duplex electrical outlets. Vintage gas pump display carts can be custom designed to any size, and like all of our products are built custom made to order. They can also be hand finished in any color to match you collectibles or the color scheme of your man cave. The vintage gas pump display carts pictured feature a 1930's-50's era Texaco color theme. They are custom finished to appear as worn and aged concrete colored Texaco red and grease stained in a battleship gray.
Keesee Vintage Visible Gas Pump Info
When we use the terms "Museum Quality" and "Historically Correct," we are indicating our world-class process. We absolutely preserve all original signs, badges, glass with anomalies, natural aged patinas, and everything that makes a vintage item collectable. Maintaining non-structural damage, all age, wear, and tear is proudly displayed to showcase each item's unique charm.
Due to our earned reputation, we have the good fortune to be in high demand by collectors. Because most of our items have a waiting list, if you're looking for a specific collectible, please ask to be put on our first come, first served list (refundable deposit required).
We are the oldest and largest seller of fine art, historically correct, museum quality antiques and genuine, investment quality classic Americana.
World Class Collector Investments
Historically Correct
Genuine From Top To Bottom
Our Latest Museum Quality Fully Restored Vintage Visible Gas Pumps