Knights Of Pythias Sign: "FBC" (Friendship, Charity, Benevolence) – VS6335
This Original Vintage Porcelain Sign Is From A Lodge Of The Knights Of Pythias, America's First Fraternal Organization, Which Was Founded In Washington D.C. In 1864
An Extremely Rare, And Truly Unique Item That Is Not Only An Investment Quality Piece Of Collectible Memorabilia, But Is Also A Conversation Starter And A Genuine Historic Artifact

Description
Knights Of Pythias Sign: "FBC" (Friendship, Charity, Benevolence)
At ArtFactory.com, we currently have hundreds of original, vintage collectible porcelain enamel and tin litho signs from the twentieth-century (and some that are even older than that). Usually, we specialize in vintage gas station petroliana, collectible automobilia, old soda machines and Coca-Cola advertising, and even vintage cigar store memorabilia and other tobacciana. However, once in awhile we come across an item that is a truly unique piece of history, and this genuine porcelain enamel, Knights of Pythias sign is just such an item. The Knights of Pythias are a fraternal organization/secret society that originated in Washington D.C. in 1864, and became the
first such organization to be recognized with a charter from the United States Congress,
 signed by President Lincoln. The organization was founded by schoolteacher,
Justus H. Rathbone
, and the name was inspired by ancient Greek literature, and the story of
Damon and Pythias
. The letters "FCB" represents the organizations motto of ("Friendship Charity, and Benevolence). As of 2003 there were over 2000 lodges in the United States, and over 50,000 members worldwide. There is a 3-tiered rank system in the order, with members achieving a rank of Page, Esquire, or Knight.
This Knights of Pythias sign is singled sided, triangular in shape, and measures 17 inches at its tallest point, by 20 inches at its widest point. It is a genuine vintage porcelain enamel sign that was displayed at Pythias Lodges in the early twentieth-century. The sign is divided into 4 different triangular, colored sections; with the center section having a white background with a black Knights of Pythias logo, the upper left section has a blue background with a black letter "F", the upper right section has a yellow background with a black letter "C", and the lower section has a red background with a black letter "B". Like all of our vintage porcelain signs, it is sold in original, unrestored condition, as pictured. This sign has some light wear, notably on the right edge of the sign, and on the point at the bottom, but is excellent condition overall for a sign of its age, and is very clean in the areas with printed graphics.
Vintage Knights Of Pythias Sign Specifications
Type: Genuine Vintage Porcelain Enamel Sign
Shape: Triangular
Organization: Knights Of Pythias: A

Fraternal Organization & Secret Society Founded In Washington, D.C., February 19, 1864.

Is The First Fraternal Organization To Receive A Charter Under An Act Of The United States Congress. F

ounded By Justus H. Rathbone, I

nspired By Irish Poet John Banim And The Legend Of Damon And Pythias. L

oyalty, Honor, And Friendship Are The Center Of The Order. There Are Over

2,000 Lodges In The United States And Over

50,000 Members Worldwide. Some L

odges Meet In Structures Called Pythian Castles.

Displayed At Knights Of Pythias Lodges
Era: Early Twentieth Century
Country Of Manufacture: U.S.A.
Color: White/Black/Yellow/Blue/Red
Dimensions: 20 Inches At Widest Point By 17 Inches At Tallest Point
Condition: Original, As-Is, See Photos For Details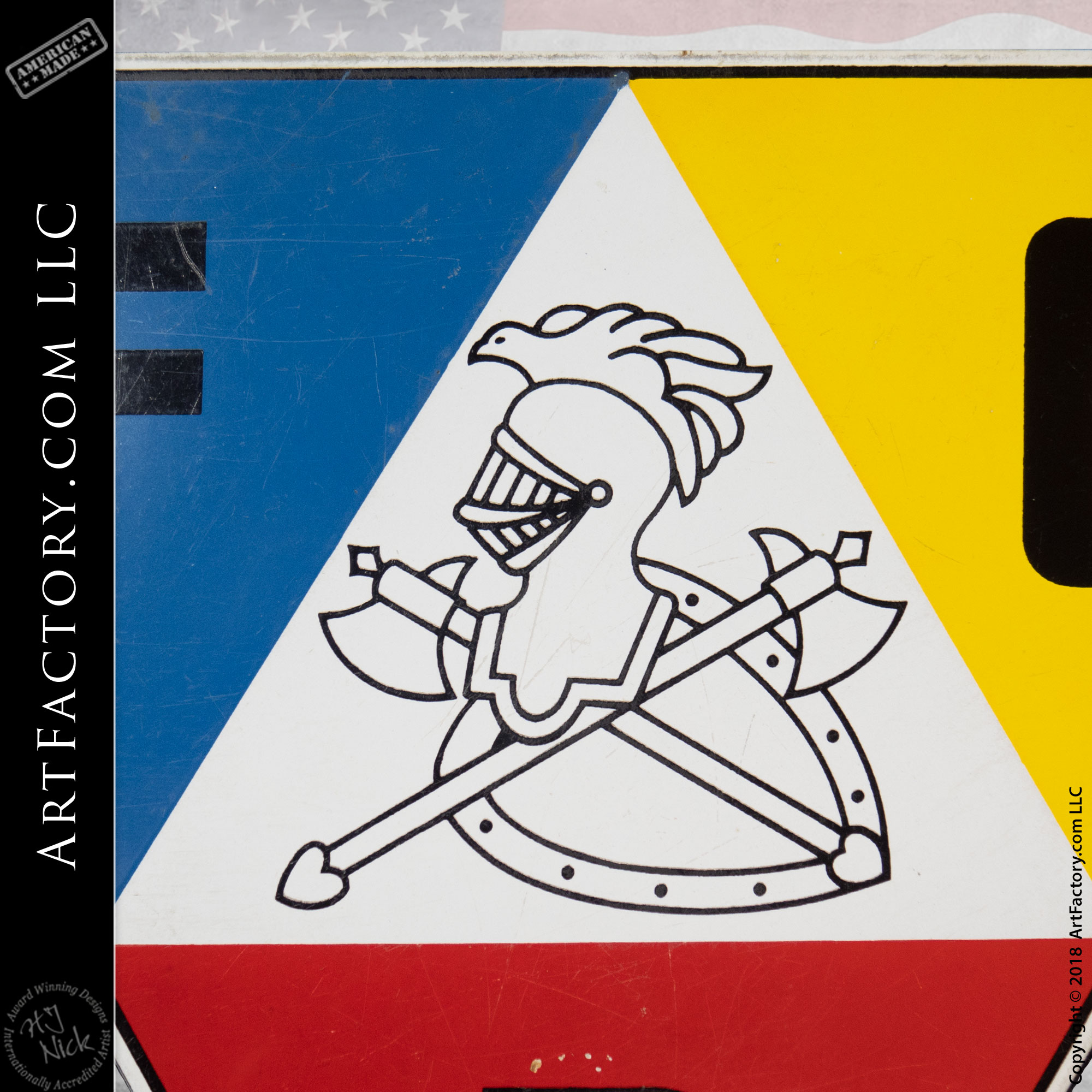 About Vintage Porcelain Signs And Collectible Memorabilia From ArtFactory.com
We sell all of our original collectible advertising in unrestored condition because it is our belief that each blemish is part of the unique history of that item. This rare, vintage Knights of Pythias sign, and all of our signs are guaranteed to be authentic, backed by over a century of experience in the antiques and collectibles marketplace. This sign is original memorabilia from one of America's most most historic organizations. We are a one stop shop when it comes to outfitting your man cave or game room. We can can outfit an entire room for you, or help you find that one special item that has been missing from your collection. In addition to signs, we have vintage vending machines and more, that we have fully restored to working, museum quality condition. Our vintage collectible restorations are the best in the business because nobody has been doing it longer, or pays as much attention to detail. To top it all off, all vintage collectibles are certified authentic by award winning artist H.J. Nick, and all of our restorations include a brass tag signed by H.J. Nick, which stands as certification that it is a world class fine art restoration that meets all museum and investment quality standards. This certification means each item bearing his signature is backed by over 100 years of manufacturing world class fine art handmade furnishings, and restoring America's finest collectibles to original, museum quality condition.
This vintage Knights of Pythias sign is the perfect conversation piece that will wow your friends and clients alike. Like all of our vintage collectible signs, it is guaranteed authentic, investment quality memorabilia. We specialize in those hard to find signs that serious collectors are looking for. All antique collectibles offered are genuine memorabilia and appreciable assets, not fake reproductions. All items are fine collectible art at the highest world class collector level. Contact us for pricing on this vintage Kights of Pythias sign, or any of our collectible Americana, antique signs, old gas pumps, and classic collectibles at 1-800-292-0008.
Knights Of Pythias Historical Details
The Knights of Pythias is a fraternal organization and secret society founded in Washington, D.C., on February 19, 1864. The Knights of Pythias is the first fraternal organization to receive a charter under an act of the United States Congress. It was founded by Justus H. Rathbone, who had been inspired by a play by the Irish poet John Banim about the legend of Damon and Pythias. This legend illustrates the ideals of loyalty, honor, and friendship that are the center of the order.
The order had over 2,000 lodges in the United States and around the world, with a total membership of over 50,000 in 2003. Some lodges meet in structures referred to as Pythian Castles.
Rank Structure
The ranks of Pythian Knighthood in a subordinate lodge (or "Castle") are:
Page
Esquire
Knight
In 1877, the order adopted an optional rank, called the Endowment Rank, which provided fraternal insurance benefits. In 1930, this department split from the Knights of Pythias and became a mutual life insurance company, later known as the "American United Insurance Company".
Finally, members who obtained the rank of Knight were eligible to join the now-defunct Uniform Rank, which participated in parades and other processions.
Read More At: Knights Of Pythias On Wikipedia
Knights Of Pythias Sign Info
When we use the terms "Museum Quality" and "Historically Correct," we are indicating our world-class process. We absolutely preserve all original signs, badges, glass with anomalies, natural aged patinas, and everything that makes a vintage item collectible. Maintaining non-structural damage, all age, wear, and tear is proudly displayed to showcase each item's unique charm.
Due to our earned reputation, we have the good fortune to be in high demand by collectors. Because most of our items have a waiting list, if you're looking for a specific collectible, please ask to be put on our first come, first served list (refundable deposit required).
We are the oldest and largest seller of fine art, historically correct, museum quality antiques and genuine, investment quality classic Americana.
World Class Collector Investments
Historically Correct
Genuine From Top To Bottom
Our Latest Investment Quality Authentic Vintage Porcelain Signs