Phillips 66 Filling Station: Vintage Gasoline & Service Custom Recreation – FS3948
We Can Outfit Your Entire Man Cave Or Game Room With Original Matching Vintage Gas Pumps, Collectible Advertising Signs, Oil Pumps And More
Don't Settle For Reproductions That Will Never Have Any Long Term Value When You Can Own Genuine Appreciable Asset Collectibles

Description
Phillips 66 Filling Station: Vintage Gasoline & Service Recreation
At ArtFactory.com we can help you find that one special centerpiece item for your collection, or as shown here, we can outfit and entire gas station themed mancave or game room with original collectible petroliana. For this Phillips 66 filling station, this customer started with 3 1930's era clock face gas pumps. These pumps include period correct color scheme, signage and advertising globes from that era. These have been displayed on a custom, Art Deco style, Phillips 66 theme rolling, lighted island cart. We can customize a heavy collectible display cart in any way that you choose, and in this case, is an extravagant work of fine art. We can custom build these display carts in any style, and to fit as many or as few pumps as you like.
Watch Our Phillips 66 Filling Station Recreation Video
To complete the decor, this customer chose to add a number of authentic, period items from Phillips 66 as pictured below. In all, the Phillips 66 filling station recreation is complete with die cut, curbside signs, a working manual cash register, and a vintage Phillips 66 theme display case with a complete collection of vintage toy cars. Like all of our collectibles and advertising, this items are guaranteed authentic, investment quality items. To get started on the gas station themed mancave of game room of your dreams, call us to at 1-800-292-0008. We can build a collection of items and customize our restored vintage gas pumps to any station theme that you choose. This includes Texaco, Sinclair, Standard Oil, or any of America's most iconic gas companies. The sky is the limit when customizing your game room with fine art quality vintage petroliana from our extensive selections of rare and sought after items.
Matching Restored Vintage Phillips 66 Gas Pumps
Watch Neon Sign Restorations Video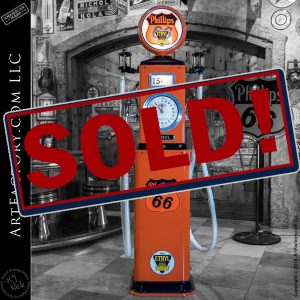 Bennett Model EM-250 Gas Pump: Fully Restored With Phillips 66 Signage – VGP6632
National Model 38-A Gas Pump: Vintage Phillips 66 Restoration – VGP6633
Phillips 66 Vintage Collectible Toy Cars Case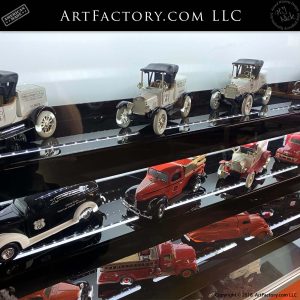 This durable, heavy metal and glass vintage display case is not only painted in the iconic orange and black of Phillips 66, but every shelf is filled with original collectible toy cars from both Phillips 66 and Historic Route 66. To find a collection like this that is complete with a matching vintage collectible display case is a truly rare find. These hard to find vintage cars are well cared for and in excellent condition. This unique display will appeal to bother collectos of toys and automobilia/petroliana.
Vintage Phillips 66 Collectible Die Cut Signs
Phillips 66 Vintage Manual Cash Register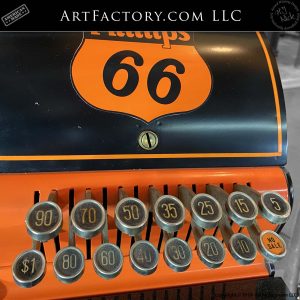 To add extra authenticity to our vintages Phillips 66 filling station recreation, we included and original cash register from the era, painted with period correct Phillips 66 logos and color scheme. Before the days of computers and electronic cash registers, this type of machine was an essential for any type of shop owner or business that dealt in cash. It is in fully working condition with locking cash drawer. Perfect for display on the bar of any gas station themed man cave.
Vintage Gas Pump Display Carts: Islands With Wheels For Heavy Collectibles - GSI500
At ArtFactory.com we make vintage gas pump display carts so that you can conveniently move your vintage visible gas pumps and other heavy collectibles from place to place. These custom islands with wheels can be come built to suit you needs. They can be built to hold one gas pump, or you whole collection, and can also be built for lubesters and vending machines. These vintage gas pump display carts are an original design by award winning artist H.J. Nick, and are hand built in heavy gage steel. The even come complete with electrical wiring so that your pumps can plug right into the island. The are also UL listed.
Finally, a convenient way to display and transport your heavy collectibles. This example includes 25 Foot industrial duty cord with plug wired and 4 duplex electrical outlets. Vintage gas pump display carts can be custom designed to any size, and like all of our products are built custom made to order. They can also be hand finished in any color to match you collectibles or the color scheme of your man cave. The vintage gas pump display carts pictured feature a 1930's-50's era Texaco color theme. They are custom finished to appear as worn and aged concrete colored Texaco red and grease stained in a battleship gray.
Phillips 66 Filling Station Info
All brass parts are solid polished original brass
Rare collectors preferred original "Milk Glass" globe
All sign-age is correct porcelain original era material (no fake foreign made parts or signs used)
All internals have been polished and rebuilt
Pump is in working order
Backed by a century of fine craftsmanship since 1913
We are the oldest and largest restorer of fine art, museum quality, historically correct antiques, and supplier of genuine investment quality un-restored classic Americana (namely signs). Museum quality, historically correct means a world class restoration that preserves all original signs, badges, glass with anomalies, natural aged patina, ect. with non structural damage. All age wear and tear is proudly displayed, when possible, on signage and gas pump globes. Contact the Art Factory for information on restoring your antique gas pumps at 1-800-292-0008.
Our Latest Museum Quality Fully Restored Vintage Visible Gas Pumps