Standard Oil Lubester: Fully Restored Original Antique Oil Pump – SOG580
Erie Meter Systems Antique Hand Operated Oil Pump
Fully Restored To Working Museum Quality Condition, Backed By Over A Century Of Restoration Experience

Description
Standard Oil Lubester: Fully Restored Original Antique Oil Pump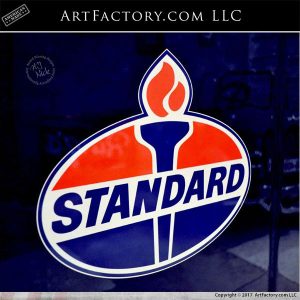 This is a Standard Oil lubester, hand operated oil or grease pump from the 1930's. It has been completely restored to better than original, all parts are correct and original, and are in full working order. This is a hand operated, 30 gallon dispenser, manufactured by Erie Meter Systems of Erie, Pennsylvania with period correct Standard Oil signage.
At ArtFactory.com you will get nothing but the highest quality, restored to museum quality specifications, original vintage collectibles available anywhere. That is backed by our over a century of experience in the antique restorations and collectibles market. Furthermore, all of our restorations are done under the supervision of, and certified as historically correct by renowned artist and designer H.J. Nick. The H.J. Nick signature certifies that your restored vintage visible gas pump, lubester, or vending machine is an authentic, fine art quality collectible with future appreciable value as an investment level collectible.
There Are No Fake Parts On This Standard Oil Lubester
Order one of our restored vintage visible gas pumps or let us restore your vintage gas or oil pumps to their original standards. All of our products are certified to be authentic, and are backed by our satisfaction guarantee. Our guarantee is backed by over a century of fine craftsmanship, and experience in antique collectibles restoration, since 1913.
We even build complete vintage filling stations, soda fountains, drive-ins, and many other authentic man cave displays, set in any era you wish to. We pre-fab entire free standing full function historical service stations in full detail. Simply send us your photos, drawings or description and we will build to your specifications. Call us for a custom quote today at 1-800-292-0008. Our ability to design and build is limited only by your imagination. The sky truly is the limit, when it comes to options available from ArtFactory.com.
THIS ITEM IS SOLD!
Note: Due to our earned reputation, we have the good fortune to be in high demand by collectors. We always have a waiting list for most items. We suggest if you are looking for a specific collectable, restored to this level, please ask to be placed on our first come, first served list. (Refundable deposit required.) Call 1-800-292-0008
Standard Oil Lubester Info
When we use the terms "Museum Quality" and "Historically Correct," we are indicating our world-class process. We absolutely preserve all original signs, badges, glass with anomalies, natural aged patinas, and everything that makes a vintage item collectable. Maintaining non-structural damage, all age, wear, and tear is proudly displayed to showcase each item's unique charm.
Due to our earned reputation, we have the good fortune to be in high demand by collectors. Because most of our items have a waiting list, if you're looking for a specific collectible, please ask to be put on our first come, first served list (refundable deposit required).
We are the oldest and largest seller of fine art, historically correct, museum quality antiques and genuine, investment quality classic Americana.
World Class Collector Investments
Historically Correct
Genuine From Top To Bottom
Our Latest Museum Quality Fully Restored Vintage Visible Gas Pumps