Vintage Wayne 615 Visible Gas Pump: With Flying A Gasoline Signage – FAGP800
Fully Restored To Historically Correct, Working, Museum Quality Collectible Condition
Includes Correct To Era Flying A Gasoline Signage, And Milk Glass Gas Globe


Description
Vintage Wayne 615 Visible Gas Pump: With Flying A Gasoline Signage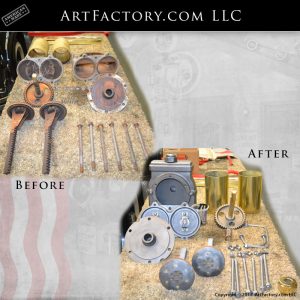 This vintage Wayne 615 visible gas pump, features an original Flying A Gasoline gas globe. The original milk glass globe (17" x 6") features two 13 1/2" Flying A Brand milk glass inserts. This design was used by the Tidewater Oil Company from the 1920s through 1960s. This pump, as pictured has been fully restored to original condition both inside and our by our expert staff at ArtFactory.com, where we are America's oldest and largest restorer of vintage petroliana. All Flying A signage is guaranteed to be original, and correct to period.
Order Your Vintage Wayne 615 Visible Gas Pump, Restored To Museum Quality By Art Factory.com
All parts of this antique gas pump are historically correct and original, and are in full working order. This highly collectible Flying A Gasoline vintage pump has been completely restored to museum quality by our master craftsman at Art Factory.com. Contact us to request a quote for a restored antique gas pumps, or any of our vintage collectible petroliana at 1-800-292-0008.
All vintage memorabilia offered is a genuine collectable and appreciable assets, not a fake reproduction. If we say "Restored" we mean complete restoration to the original production offering in its era. If we say "Restormod" we mean complete original restoration, with some improved modifications or customizations. All items are fine collectable art at the highest world class, investment quality, collector level. Furthermore, all restorations signed and certified for quality, originality, and authenticity by world renowned artist H.J. Nick.
Antique Gas Pump – Specifications:
Make/Model: Wayne Model 615 Visible Gas Pump
Gas Company: Flying A Gasoline (globe c.1920s-1960s)
Make/Model:Visible Pump
Era: 1910-1930
Color: Red, white,
Height: 119″ (with globe)
Base Diameter: 24″
Condition: Antique/Restored museum quality and historical correct
Notable Features:
Flying A Gasoline original milk glass inserts in milk glass globe light. Fry Guarantee Visible hand pump model with original blue tinted glass 10 gallon tank
From Wayne Model 615 Visible Gas Pump Original Sales Literature
Wayne Model 615 Wet Hose Visible Gas Pump is the choice of hundreds of oil companies for their standard equipment. Speedy operation, dependability and low maintenance cost are factors accounting for its nationwide popularity. Wayne's Improved Wet Hose Pump, Model 615 (Underwriters' Approved) follows closely the lines of the Model 515 Series, and the retention of the value of standardization of appearance. The improvements found on the Model 615 guarantees Wayne's position as the manufacturers of "America's Best Wet Hose Pump."
Wayne Company - Fort Wayne, Indiana
Atlantic Area: Fry Equipment Corp. Division, Rochester, Pennsylvania
Pacific Area: The Boyle-Dayton Division, Los Angeles, California
Wayne Company, Ltd., Toronto, Canada
THIS ITEM IS SOLD!
Note: Due to our earned reputation, we have the good fortune to be in high demand by collectors. We always have a waiting list for most items. We suggest if you are looking for a specific collectable, restored to this level, please ask to be placed on our first come, first served list. (Refundable deposit required.) Call 1-800-292-0008
Vintage Gas Pump Display Carts: Islands With Wheels For Heavy Collectibles - GSI500
At ArtFactory.com we make vintage gas pump display carts so that you can conveniently move your vintage visible gas pumps and other heavy collectibles from place to place. These custom islands with wheels can be come built to suit you needs. They can be built to hold one gas pump, or you whole collection, and can also be built for lubesters and vending machines. These vintage gas pump display carts are an original design by award winning artist H.J. Nick, and are hand built in heavy gage steel. The even come complete with electrical wiring so that your pumps can plug right into the island. The are also UL listed.
Finally, a convenient way to display and transport your heavy collectibles. This example includes 25 Foot industrial duty cord with plug wired and 4 duplex electrical outlets. Vintage gas pump display carts can be custom designed to any size, and like all of our products are built custom made to order. They can also be hand finished in any color to match you collectibles or the color scheme of your man cave. The vintage gas pump display carts pictured feature a 1930's-50's era Texaco color theme. They are custom finished to appear as worn and aged concrete colored Texaco red and grease stained in a battleship gray.
Vintage Wayne 615 Visible Gas Pump Info
When we use the terms "Museum Quality" and "Historically Correct," we are indicating our world-class process. We absolutely preserve all original signs, badges, glass with anomalies, natural aged patinas, and everything that makes a vintage item collectable. Maintaining non-structural damage, all age, wear, and tear is proudly displayed to showcase each item's unique charm.
Due to our earned reputation, we have the good fortune to be in high demand by collectors. Because most of our items have a waiting list, if you're looking for a specific collectible, please ask to be put on our first come, first served list (refundable deposit required).
We are the oldest and largest seller of fine art, historically correct, museum quality antiques and genuine, investment quality classic Americana.
World Class Collector Investments
Historically Correct
Genuine From Top To Bottom
Our Latest Museum Quality Fully Restored Vintage Visible Gas Pumps