Felix The Cat Mutoscope: Antique Restored 1 Cent Motion Picture Machine – MMP777
This Penny Movie Machine Has Been Fully Restored Inside And Out To Working Museum Quality Condition And Customized With A Reel Of The Customer's Wedding Photo's
Our Over A Century Of Experience, Plus Our Attention To Detail Makes Our Antique Restorations The Finest Quality Offered Anywhere

Description
Felix The Cat Mutoscope: Antique Restored 1 Cent Motion Picture Machine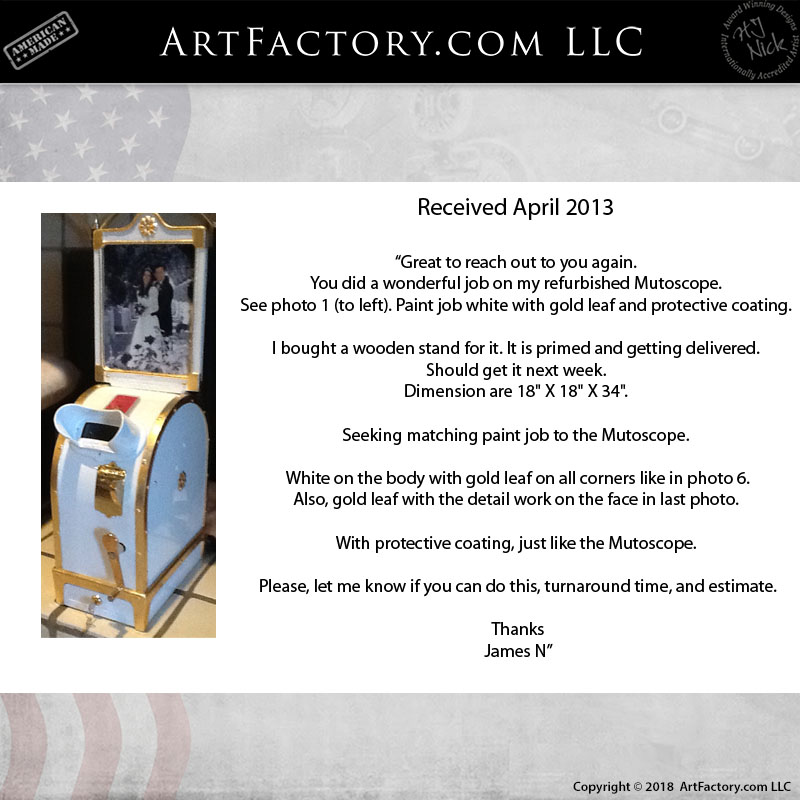 At ArtFactory.com, our 101 point antiques restorations are second to none due to our decades of experience, and attention to detail. Furthermore, all of our antiques restorations are certified to world class fine art standards by award winning artist H.J. Nick. This customer asked for us to restore this machine as a wedding anniversary gift for his wife.
The original Felix The Cat reel has been removed and replaced with a reel of their wedding photos by our experts. This is an original Mutoscope M.M.M. 84 from the late 1800's and early 1990's that was manufactured By International Mutoscope Reel 60 Inc. of New York, New York U.S.A.. It has been completely restored both inside and out to original manufacture specifications. All parts are original and complete with makers marks and have been fully polished and painted as pictured.
History Of The Mutoscope
The Mutoscope works on the same principle as the flip book. The individual image frames are conventional black-and-white, silver-based photographic prints on tough, flexible opaque cards. Rather than being bound into a booklet, the cards are attached to a circular core, rather like a huge Rolodex. A reel typically holds about 850 cards, giving a viewing time of about a minute. The reel with cards attached has a total diameter of about 10 inches (25 cm); the individual cards have dimensions of about 2 3⁄4 in × 1 7⁄8 in (7.0 cm × 4.8 cm).
Mutoscopes are coin-operated. The patron views the cards through a single lens enclosed by a hood, similar to the viewing hood of a stereoscope. The cards are generally lit electrically, but the reel is driven by means of a geared-down hand crank. Each machine holds only a single reel and is dedicated to the presentation of a single short subject, described by a poster affixed to the machine.
Read More At: Mutoscope on Wikipedia
This Item Has Been Delivered To Our Restoration Customer
Note: Due to our earned reputation, we have the good fortune to be in high demand by collectors. We always have a waiting list for most items. We suggest if you are looking for a specific collectable, restored to this level, please ask to be placed on our first come, first served list. (Refundable deposit required.) Call 1-800-292-0008
Felix The Cat Mutoscope Info
When we use the terms "Museum Quality" and "Historically Correct," we are indicating our world-class process. We absolutely preserve all original signs, badges, glass with anomalies, natural aged patinas, and everything that makes a vintage item collectable. Maintaining non-structural damage, all age, wear, and tear is proudly displayed to showcase each item's unique charm.
Due to our earned reputation, we have the good fortune to be in high demand by collectors. Because most of our items have a waiting list, if you're looking for a specific collectible, please ask to be put on our first come, first served list (refundable deposit required).
We are the oldest and largest seller of fine art, historically correct, museum quality antiques and genuine, investment quality classic Americana.
World Class Collector Investments
Historically Correct
Genuine From Top To Bottom
Our Latest Museum Quality Vintage Vending Machines