Vintage Gulf Petroliana Collectibles: One-Of-A-Kind Collection – VS8000
These Items Are From The Estate Of Late Gulf Oil Paleontologist Georges Pardo, And Were His Personal Collection
This Set Of Items Includes Original Gulf Branded Signs, Belt Buckles, Patches, A Bolo Tie, Playing Cards & More

Description
Vintage Gulf Petroliana Collectibles: One-Of-A-Kind Collection
THIS VERY RARE MUSEUM COLLECTION IS ONLY OFFERED AS A COMPLETE SET AND WILL NOT BE BROKEN UP.
Georges Pardo (Paleontologist for Gulf Oil Corporation)
1920 - 2017
Georges Pardo passed away on March 1st 2017, at the young age of 96. Georges was born in France on April 4th 1920 and finished high school in 1938. In 1939 he joined his father in Venezuela for summer vacation. With War breaking out in Europe, he remained in Venezuela and found geology mostly through happenstance.
During his geologic education, he worked in the summer for Mene Grande Oil Company and had his first extensive contact with Dr. Hollis Hedberg ( one of Gulf's most distinguished scientists ) who was to become his mentor, friend, and role model for many years.  In the fall of 1943 after obtaining his Geologist diploma Cum Laude from the Institute, he joined Mene Grande as a Paleontologist, and thus started his active forty-one year career with Gulf Oil Corporation. A colorful career it was too, living in Venezuela, Cuba, Pittsburgh, Coral Gables, and Houston, but also working on hydrocarbon exploration worldwide.
Vintage Gulf Petroliana Collectibles Specifications
History: This Gulf Collection was provided to us by the living descendants of Georges Pardo (Gulf Scientist).
Items Included: Metal Signs, Belt Buckles, Patches, Stickers, Bolo Tie, Leather Keychains, Playing Cards, Pencil, Medallion, Golf Ball, Collectible Book
Company: Gulf Oil
Product: Gulf Gasoline
Era: 1943-1984
Country Of Manufacture: U.S.A.
Color: White/Orange/Blue
Item Dimensions: Circular Signs 10.5 inch diameter
Rectangular Signs 11 wide x 8.5 tall inch
Stickers, Buttons, Badges and Buckles less than 4 inches
Condition: Original, as-is, see photos for details
Sold: As Complete Set Only
About Geroges's Time With The Gulf Oil Coroporation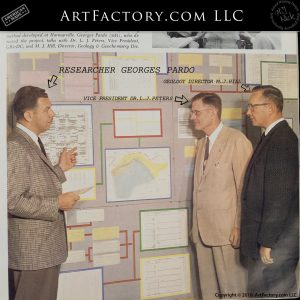 Georges was highly intelligent and very creative and loved the good, abundant data available at Gulf, and much of what he worked on with the company was confidential. Even with support for his work at high levels in Gulf Oil, many of his new ideas and concepts did not find favor with others in the company. That was unfortunate, because he often turned out to be right.
For example, in 1967, Georges embarked on a crusade for direct detection of hydrocarbons, having noticed then! In well logs, density and velocity anomalies of gas sands in US Gulf Coast sediments, Middle Level Gulf Oil management had essentially no interest in Georges' direct detection of hydrocarbons until other companies began to show interest and apply the same methods to display "bright spots".
Georges retired in late 1984 at the age of 64 from Gulf Oil as the merger of Gulf Oil and Chevron was nearly complete. But leaving the company did not mean that his powerful intellect retired. After retiring, Georges developed a strong interest in global warming and climate change. As usual, he was very skeptical, but that skepticism slowly changed to acceptance as he gathered an enormous amount of data. Despite strong encouragement to publish some of his results, they are now gone as with the loss of Georges.
A special thank you to Georges' daughters, Mary Pardo and Gina Minzenmeyer for this glimpse into a very special, Intelligent, and dedicated man of science that helped develop the Gas and Oil we still use today.
Vintage Gulf Petroliana Collectibles Additional Details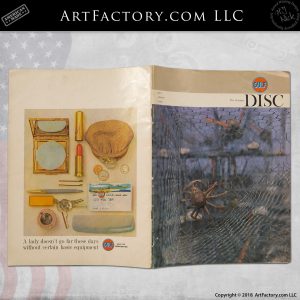 All of our collectible petroliana is guaranteed to be authentic, backed by over a century of experience in the antiques and collectibles marketplace. This is a one-of-a-kind, employee collection of original memorabilia from one of America's most iconic brands. We are a one stop shop when it comes to outfitting your man cave or game room. We can can outfit an entire gas station or automotive themed room for you, or help you find that one special item that has been missing from your collection. In addition to signs and collectibles, we have vintage visible gas pumps, oil pumps, lubesters, and more, that we have fully restored to working, museum quality condition. Our petroliana restorations are the best in the business because nobody has been doing it longer, or pays as much attention to detail.
This collection of rare, vintage Gulf petroliana collectibles is the perfect conversation piece that will wow your friends and clients alike. These items are all in as-is, unrestored condition as we believe that all vintage collectible signs and advertisements should maintain their blemishes and character, and that any dings and dents are part of the story of the item. Like all of our vintage collectibles, these items are guaranteed authentic, investment quality memorabilia. We specialize in those hard to find items that serious collectors are looking for. All antique collectibles offered are genuine memorabilia and appreciable assets, not fake reproductions. All items are fine collectable art at the highest world class collector level. Contact us for pricing on these vintage Gulf petroliana collectibles, or any of our collectible Americana, antique signs, or old gas pumps at 1-800-292-0008.
History And Collectibility Of Gulf Oil Signs
Gulf Oil signs, often recognized by their distinctive orange and blue color scheme, have become iconic symbols in the world of petroleum and automotive culture. These signs were typically used at Gulf-branded gasoline stations and other Gulf Oil-related facilities. The Gulf Oil signs have taken different forms over the years, but some of the most well-known types include:
Gulf Disc Sign: This is perhaps the most recognizable Gulf sign. It features a circular disc with the word "Gulf" in bold blue letters against an orange background. This design has been a consistent element of the Gulf brand's identity.
Gulf Gasoline Pump Sign: This sign was often placed on top of gasoline pumps at Gulf-branded stations. It typically featured the word "Gulf" along with a representation of the Gulf logo and the wording "Gasoline" or "Gas."
Gulf Oil Company Logo Sign: Some signs displayed the full Gulf Oil Company logo, which included the circular disc with the word "Gulf" and additional elements such as the word "Oil Company" or other brand-related information.
Vintage Gulf Signs: Over the years, Gulf has used various vintage signs that evoke a sense of nostalgia. These signs often feature retro designs and elements reminiscent of earlier decades.
Neon Gulf Signs: Neon signs with the Gulf logo and name have been used to attract attention, especially during the night. These signs combine the iconic colors with the eye-catching glow of neon lighting.
Advertising Signs: Gulf also produced various advertising signs that promoted specific products or services, such as Gulfpride motor oil or other lubricants.
More Vintage Collectible Gulf Oil Gas Station Signs For Sale From ArtFactory.com
Vintage Gulf Petroliana Collectibles Info
When we use the terms "Museum Quality" and "Historically Correct," we are indicating our world-class process. We absolutely preserve all original signs, badges, glass with anomalies, natural aged patinas, and everything that makes a vintage item collectible. Maintaining non-structural damage, all age, wear, and tear is proudly displayed to showcase each item's unique charm.
Due to our earned reputation, we have the good fortune to be in high demand by collectors. Because most of our items have a waiting list, if you're looking for a specific collectible, please ask to be put on our first come, first served list (refundable deposit required).
We are the oldest and largest seller of fine art, historically correct, museum quality antiques and genuine, investment quality classic Americana.
World Class Collector Investments
Historically Correct
Genuine From Top To Bottom
Our Latest Investment Quality Authentic Vintage Porcelain Signs