Vintage Tom's Peanuts Machine: 1930's 5 Cent Stoner Candy Vending – TVM800
Working, Fully Original "SURVIVOR" Vending Machine From The 1930's!
This Machine Has Only Been Cleaned And Polished, NOT RESTORED, Features Original Factory Paint!

Description
Vintage Tom's Peanuts Machine: 1930's 5 Cent Stoner Candy Vending
This is a fully original, working, "SURVIVOR", vintage Tom's Peanuts machine. The Stoner 180M Lighted Peanut, Candy Vending Machine is from the 1930's. It is an 8-selection machine. The the mirror and lettering and sign-age is original as well as the paint. Vendors like this were commonly used in movie theaters and hotel lobbies during the era. A true throwback, this working machine still dispenses for the going rate of 5 cents from the 1930's. It is perfect for your vintage theme home theater, or service station themed man cave. A true centerpiece for even the most serious collector.
This genuine vintage Tom's Peanuts  machine in original and full working condition. All antique memorabilia offered are genuine collectable and appreciable assets, not fake reproductions. All items are fine collectable art at the highest world class collector level. Contact us to order vintage Americana, antique signs, old gas pumps, and classic collectables at 1-800-292-0008.
Vintage Tom's Peanuts Machine Specifications
Type: Stoner Model 180M
Special Features: Lighted Vending Machine
Company: Tom's Snacks
Product: Peanuts and Candy
Era: 1930's
Electric: Standard 110 plug
Serves: 8 selections
Dimensions: 65" Tall x 29" Wide x 13" Deep
Manufactured by: Stoner Mfg. Corp. Aurora, Illinois
Condition: Original (UNRESTORED SURVIVOR), fully working
THIS ITEM IS SOLD!
Note: Due to our earned reputation, we have the good fortune to be in high demand by collectors. We always have a waiting list for most items. We suggest if you are looking for a specific collectable, restored to this level, please ask to be placed on our first come, first served list. (Refundable deposit required.) Call 1-800-292-0008
Tom's Snacks & Stoner Vending Company History
Stoner Manufacturing was founded in 1931 by Harry Stoner in Aurora, Illinois. They were known for their vending machines, only taking a break from machine manufacture during World War II when they manufactured cartridges for the war. Their vending machines were primarily candy machines that were featured in movie theaters. When his business partner died in 1964, Harry sold the company to Vendo.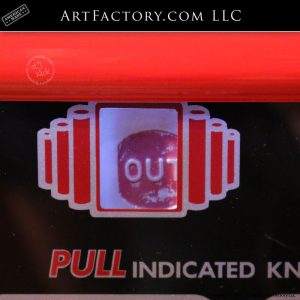 Tom Huston founded Tom's Snacks, known by the distinctive red triangle logo, in 1925. He enjoyed eating peanuts but hated shelling them. Because he was a bit of an inventor, he invented a machine to shell peanuts but had a hard time selling it because peanuts weren't the snack food then that they are now and the cost of the machine could not be justified by many. Tom then decided that he would sell roasted peanuts. He created a method for roasting peanuts and invented the cellophane sleeve to package them in. He patented the cellophane bag with the red triangle and so began the logo of Tom's Toasted Peanuts. He started selling them on the streets, and soon became known for vending machine sized treats. He used independent distributors to expand sales and even had an article featuring him in Time magazine.
During this whole time of expanding Huston Peanut Company, Tom never stopped inventing and trying new things. This became his downfall. A frozen peaches venture he was trying to launch failed and the notes on his company came due to the bank. The peanut company was foreclosed upon and Tom Huston was no longer "The Peanut King". Though Tom Huston lost his company in 1932, the Huston Peanut Company continued through many purchases and buyouts and is now known as Tom's Snacks Company, a subsidiary of Lance, Inc.
Read More At: Tom's Snacks On Wikipedia
Vintage Tom's Peanuts Machine Info
When we use the terms "Museum Quality" and "Historically Correct," we are indicating our world-class process. We absolutely preserve all original signs, badges, glass with anomalies, natural aged patinas, and everything that makes a vintage item collectable. Maintaining non-structural damage, all age, wear, and tear is proudly displayed to showcase each item's unique charm.
Due to our earned reputation, we have the good fortune to be in high demand by collectors. Because most of our items have a waiting list, if you're looking for a specific collectible, please ask to be put on our first come, first served list (refundable deposit required).
We are the oldest and largest seller of fine art, historically correct, museum quality antiques and genuine, investment quality classic Americana.
Our Latest Museum Quality Vintage Vending Machines