1930 Model A Ford Closed Cab Pickup: Off Body Restoration 2006 – AA30
Original California truck complete with its original 1930 license plates
This truck also has a extra 2 1/2 inches cab length and allows for a larger driver not to have to remove the steering wheel to fit in.

Description
1930 Model A Ford Closed Cab Pickup1930 Model A Ford
Closed Extra Length Cab Pickup.
Rebuilt Off Chases Old Delivery
Finished as close as possible to original production line standards.
Model A Ford Truck Sold In 1930 For The Sum Of $465.00 USD
Almost 90 Years Of Reliable Use
This is a great running truck up grades include a 12 volt system up grade, also a high low over drive transmission has also been installed to achieve top speeds. We also installed a electric flip down legal license plate for those times you want to show off this beauty wherever you want!
The Ford Model A (also colloquially called the A-Model Ford or the A, and A-bone among rodders and customizers), was the second huge success for the Ford Motor Company, after its predecessor, the Model T. First produced on October 20, 1927, but not sold until December 2, it replaced the venerable Model T, which had been produced for 18 years. This new Model A (a previous model had used the name in 1903–04) was designated a 1928 model and was available in four standard colors.
February 4, 1929, one million Model As had been sold, and by July 24, two million. The range of body styles ran from the Tudor at US$500 (in grey, green, or black) to the Town Car with a dual cowl at US$1200. In March 1930, Model A sales hit three million, and there were nine body styles available.
Model A production ended in March 1932, after 4,858,644 had been made in all body styles.  Its successor was the Model B, which featured an updated inline four-cylinder engine, as well as the Model 18, which introduced Ford's new flathead (sidevalve) V8 engine
Prices for the Model A ranged from US$385 for a roadster to US$1400 for the top-of-the-line Town Car. The engine was a water-cooled L-head inline four with a displacement of 201 cu in (3.3 l). This engine provided 40 hp (30 kW; 41 PS). Top speed was around 65 mph (105 km/h). The Model A had a 103.5 in (2,630 mm) wheelbase with a final drive ratio of 3.77:1. The transmission was a conventional unsynchronized three-speed sliding gear manual with a single speed reverse. The Model A had four-wheel mechanical drum brakes. The 1930 and 1931 models were available with stainless steel radiator cowling and headlamp housings..
History
Henry Ford's first attempt at a car company under his own name was the Henry Ford Company on November 3, 1901. They became the Cadillac Motor Company on August 22, 1902, after Ford left with the rights to his name. The Ford Motor Company was launched in a converted factory in 1903 with $28,000 in cash from twelve investors.
Most notably John and Horace Dodge(who would later found their own car company). During its early years, the company produced just a few cars a day at its factory on Mack Avenue. Groups of two or three men worked on each car, assembling it from parts made mostly by supplier companies contracting for Ford. Within a decade, the company would lead the world in the expansion and refinement of the assembly line concept, and Ford soon brought much of the part production in-house in a vertical integration that seemed a better path for the era.
Henry Ford was 39 years old when he founded the Ford Motor Company, which would go on to become one of the world's largest and most profitable companies. It has been in continuous family control for over 100 years and is one of the largest family-controlled companies in the world.
---
Development History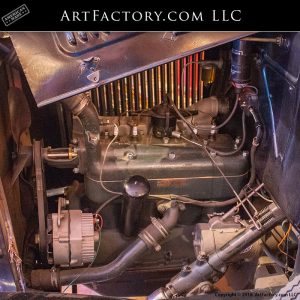 From the mid 1910s through the early 1920s, Ford dominated the automotive market with its Model T. However, during the mid-1920s, this dominance eroded as competitors. Especially the various General Motors divisions, caught up with Ford's mass production system and began to better Ford in some areas. By offering more powerful engines, new convenience features, or cosmetic customization. Also, features Henry Ford considered to be unnecessary, such as electric starters, were gradually shifting in the public's perception from luxuries to essentials.
Also Ford's sales force recognized the threat and advised Henry to respond to it. His ideas to improve the DFM of forging did not prove practical. Eventually, Ford's engineers persuaded him to relent, lest the Model A's production cost force up its retail price too much.
Henry's disdain for cosmetic vanity led him to leave the styling to a team led by his son Edsel. He would take credit for it despite his son doing more of the work.
Source: Wikipedia
1930 Model A Ford Closed Cab Pickup Info
When we use the terms "Museum Quality" and "Historically Correct," we are indicating our world-class process. We absolutely preserve all original signs, badges, glass with anomalies, natural aged patinas, and everything that makes a vintage item collectable. Maintaining non-structural damage, all age, wear, and tear is proudly displayed to showcase each item's unique charm.
Due to our earned reputation, we have the good fortune to be in high demand by collectors. Because most of our items have a waiting list, if you're looking for a specific collectible, please ask to be put on our first come, first served list (refundable deposit required).
We are the oldest and largest seller of fine art, historically correct, museum quality antiques and genuine, investment quality classic Americana.
World Class Collector Investments
Historically Correct
Genuine From Top To Bottom
Vintage and Antique Petroliana to Accent Your Man Cave and Vintage Cars
We Are The Original American Restoration Company
Since 1913, ArtFactory.com has been in the business of making old look new again. In addition to crafting high quality, handmade, fine art furnishings, we do museum quality antique restorations as well. We can restore your antique furnishings, and man cave collectibles to world class, museum quality standards. All of our restorations are done to historically correct, original specifications.
About Man Cave Collectibles Restorations
While we are known for our furniture, we are also one of the leading authorities on restored collectible Americana. At ArtFactory.com, we have some of the finest examples of working, fully restored, vintage visible gas pumps in the world. We also do restorations on vending and soda machine, antique neon signs, slot machines, and collectible antique toys just to name a few. Bringing back memories of your life experience by fine art restorations of your vintage artifacts is our privilege. We always guarantee our work to your satisfaction or your money back, backed by over a century of experience.
More About American Vintage Restorations
About ArtFactory.com
We are a custom wood door and furniture manufacturer that specializes in building custom solid wood doors the old fashioned way – by hand. Our wood is naturally air dried to create custom wood door designs that are guaranteed forever. Enhance the beauty of your interior or exterior with hand carved entryways built by master craftsmen and inspired by history. Additionally, we specialize in vintage man cave collectibles. Specifically, this includes restored vintage visible gas pumps, neon and porcelain signs, petroliana, restored working vending machines, and more.