Vendo 39 Coca-Cola Machine: Full Museum Quality Restoration – CM6551
This Extremely Popular Vendo Coke Machine, With A Capacity Of 39 (7 Or 8 Oz Glass Bottles) Is Highly Collector Coveted, Due To Its Relatively Small Size, Which Makes It Ideal For Display For Home, Office, Man Cave Or Game Room Vendor
This Original 10 Cent Vending Machine From The Early 1950's Has Undergone A 101 Point Restoration To Working, Museum Collectible Condition Under The Supervision Of Award Winning Artist H.J. Nick, And Has Received His Brass Tag Signature Certification, As Meeting All World Class Fine Art And Investment Quality Standards

Description
Vendo 39 Coca-Cola Machine: Full Museum Quality Restoration
This restored Vendo 39 Coca-Cola machine is solid red with embossed white lettering. At the top it reads "Drink Coca-Cola In Bottles". The words "Drink/In Bottles" are italicized letters, while the word "Coca Cola" is in script style letting. At the bottom is the words, "ICE COLD" in embossed block style lettering. The coin entry is stainless steel. It measures 58 Inches Tall by 27 inches wide, and is 16 inches deep. It is one of the most iconic and sought after machines of its era. Simply insert a coin to unlock the crank, and then 1 of 39 (Pre-Cooled) bottles will appear in the front door. The Vendo Coke Machine can vend 8 oz. bottles of Coca-Cola, Diet Coke, Sprite, Dr. Pepper or small 7 oz. beer bottles (but never Pepsi). This machine also includes a built in bottle opener.
The Vendo 39 Coca-Cola machine is refrigerated, and all electrical and refrigeration components have been restored or replaced. As with all of our vintage vending machine restorations, all part both inside and out have been fully removed, cleaned, polished, painted, and restored to original manufacture condition. Don't settle for low quality home restorations, when you can own and investment quality item, that has been restored to museum quality specifications. Furthermore, this vintage Vendo 39 Coca-Cola machine has the brass tag signature, certification of award winning artist H.J. Nick. This certification means each item bearing his signature is backed by over 100 years of manufacturing world class fine art handmade furnishings, and restoring America's finest collectibles to original, museum quality condition. Our restorations are the finest quality available anywhere due to our attention to detail, and the fact that no one has been doing it for longer. This means that unlike other restoration shops out there, we repaint even the parts that you can't see. We restore old soda machines, slot machines, candy vending machines, vintage visible gas pumps from the inside out.
Vendo 39 Coca-Cola Machine Specifications
Type: Upright Roto-Drum Style Vending Machine
Manufacture: Vendo
Model: 39-B
Serial Number: 401-57503
Coca-Cola Machine Number: 3939
Product: Coca-Cola
Vending Capacity: 39 (7 or 8 Oz Bottles)
Era: 1949-1954
Place Of Manufacture: Kansas City, Missouri, U.S.A.
Color: Red/White
Dimensions: 58 Inches Tall By 27 Inches Wide By 16 Inches Deep
Condition And Restoration Details: 101 Point World Class Fine Art Museum Quality Restoration, Original, Working Condition, Just As New Machine Would Have Been Delivered From The Manufacture In The 1950's. Has Received Award Winning Artist H.J. Nick's Brass Tag Signature Certification As Meeting All World Class Fine Art, Museum, And Investment Quality Standards, A Certification That Is Recognized By Collectors And Insurers Worldwide. This Includes Full Restoration, Cleaning, Polishing, And Re-Machining (When Necessary) All Parts Both Inside And Out, Even Those That Are Not Seen To Original Factory Condition. If A Part Cannot Be Restored, It Is Replaced By With An Original Component, In Cases That An Original Component Is Not Available, We Manufacture One To Original Specifications.
ArtFactory.com & Award Winning Artist H.J. Nick Brass Tag Certification Details
The H.J. Nick Brass Tag Certification ensures each piece to be the genuine article. Backed by our over a century of experience, with our word is our bond reputation and guaranteeing or your money back "forever". The H.J. Nick Brass Tag Certification makes this item one of the highest appreciating, collectible investments that you can make. These items can be insured at stated value, usually on your home owners policy, for little added premium. Thus, making this a safer investment than even those insured by the FDIC, is much more fun to own, and puts you in control instead of the bank.
Vendo 39 Coca-Cola Machine Additional Details
This Vendo 39 Coca-Cola machine, and all of our vintage restorations, are guaranteed to have the same functionality that would have been expected from a new machine ordered from the manufacturer. This means not only the sheet metal, but every working part including motors, fans, and coin acceptors. Furthermore, all of our restorations are done to historically correct specifications with original, period correct signage and paint schemes. This ensures if a collectible item that will have future appreciable value. Journey back to a period in time when you could get an ice cold Coca-Cola at any roadside soda shop. This machine is very popular with collectors, and becoming harder to find as fewer and fewer people are letting them out of their collections. This vintage Vendo 39 Coca-Cola machine is original memorabilia from one of America's most iconic brands, and is the perfect conversation piece that will wow your friends and clients alike. Like all of our vintage restored soda machines, it is guaranteed authentic, investment quality memorabilia. We specialize in those hard to find machines that serious collectors are looking for. All antique collectables offered are genuine memorabilia and appreciable assets, not fake reproductions. All items are fine collectable art at the highest world class collector level.
We can can outfit an entire vintage soda shop themed room for you, or help you find that one special item that has been missing from your collection. In addition to vintage restored vending machines, we have a large selection of vintage porcelain, tin litho, and even neon Coca-Cola signs, and one of the largest collections of vintage soda collectibles for sale anywhere in the world. Our vintage vendor restorations are the best in the business because nobody has been doing it longer, or pays as much attention to detail. Call us today at 1-800-292-0008  for pricing on this vintage restored Vendo 39 Coca-Cola machine, or any of our restored vintage vending machines. Furthermore, if you have a machine of your own that needs restoration, we can do that too!
Vendo Company Machine History
The Vendo Company is a large retailer of cold beverage vending machines. Since its founding in 1937, Vendo has come out with many innovations that now exist in nearly every beverage and snack vending machine in use today. In 2005, Vendo moved its headquarters to Dallas, Texas, and was renamed Sanden Vendo America, Inc., signifying a new global synergy with parent and sister companies in Japan, North America, and Europe.
Coca-Cola was introduced to the world in 1886 and sold for 5 cents per glass. After the beverage expanded outside Atlanta and introduced the patented contour-shaped bottles, it soon became a beloved mass-produced bottled beverage.
Vendo came along in 1937 and the companies innovations still exist in most snack and beverage vending machines today. The Coca-Cola Vendo 39 Machine was the companies greatest success, it's size allowed it to be displayed in many stores, from grocers to gas stations, and around 80,000 were produced to meet demand.
Read More At: Vendo On Wikipedia
Coca-Cola Company History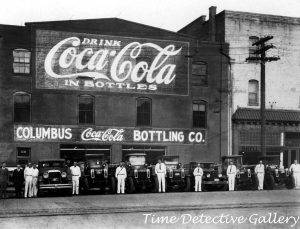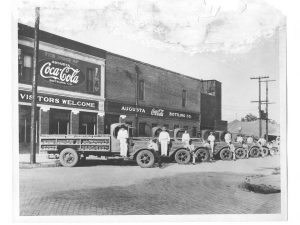 Coca-Cola, or Coke, is a carbonated soft drink manufactured by the Coca-Cola Company. Originally marketed as a temperance drink and intended as a patent medicine, it was invented in the late 19th century by John Stith Pemberton in Atlanta, Georgia. In 1888 Pemberton sold Coca-Cola's ownership rights to Asa Griggs Candler, a businessman, whose marketing tactics led Coca-Cola to its dominance of the global soft-drink market throughout the 20th and 21st century. The drink's name refers to two of its original ingredients: coca leaves, and kola nuts (a source of caffeine). The current formula of Coca-Cola remains a closely guarded trade secret; however, a variety of reported recipes and experimental recreations have been published. The secrecy around the formula has been used by Coca-Cola in its marketing as only a handful of anonymous employees know the formula. The drink has inspired imitators and created a whole classification of soft drink: colas.
Read More At: Coca-Cola On Wikipedia
THIS ITEM IS SOLD!
Note: Due to our earned reputation, we have the good fortune to be in high demand by collectors. We always have a waiting list for most items. We suggest if you are looking for a specific collectable, restored to this level, please ask to be placed on our first come, first served list. (Refundable deposit required.) Call 1-800-292-0008
Vendo 39 Coca-Cola Machine Info
When we use the terms "Museum Quality" and "Historically Correct," we are indicating our world-class process. We absolutely preserve all original signs, badges, glass with anomalies, natural aged patinas, and everything that makes a vintage item collectable. Maintaining non-structural damage, all age, wear, and tear is proudly displayed to showcase each item's unique charm.
Due to our earned reputation, we have the good fortune to be in high demand by collectors. Because most of our items have a waiting list, if you're looking for a specific collectible, please ask to be put on our first come, first served list (refundable deposit required).
We are the oldest and largest seller of fine art, historically correct, museum quality antiques and genuine, investment quality classic Americana.
World Class Collector Investments
Historically Correct
Genuine From Top To Bottom
Our Latest Museum Quality Vintage Vending Machines